Save this: A checklist of easy home hacks to prevent falls
Has your parent or other relative become less steady on his or her feet from an injury or aging? Maybe you've already helped a friend or family member who is recovering from surgery with a walker or crutches – or you've been there yourself.
Our experts at the Falls Prevention Clinic at The Ohio State University Wexner Medical Center put together a list of easy home improvements to implement when you care for a loved one with limited mobility – possibly someone who had knee replacement, has chronic muscle weakness or lives with a neurological, cognitive or cardiovascular condition.
And before you think only senior citizens are at risk of falling, let's set the record straight. People of all ages could benefit from our tips to eliminate common fall hazards. You could be preventing serious injuries that our doctors see after falls, including hip fractures and head trauma.
"People can fall at any age," says physical therapist ReNea Owens, clinical manager for Outpatient Rehabilitation at the Wexner Medical Center. "It's not always just the elderly."
This home improvement checklist can prevent falls:
Cut the clutter
Easier said than done sometimes, right? But focus your attention on those pathways and stairways to prevent a tripping episode: No shoes stacked on the steps. Move furniture away from doorways. Keep the walkways clear of throw rugs. That kind of thing.
"We get so familiar in our home environments that we are not always conscious of the dangers that could be in our home," Owens says.
Take extra care in one of the slipperiest spots
Nonslip mats for the shower are inexpensive, and adding a grab bar or two in the bathroom is an easy do-it-yourself project or worth the expense of an installer. Having a sturdy bar to grasp is much better than reaching for a wet sink or an unsecure towel bar.
Ensure frequently used items are always within reach
Medications, drinking glasses, eyeglasses, the remote, keys, all the stuff in the medicine cabinet used each morning and night. What other items can you move to lower spots so your loved one can avoid overreaching or needing a stepstool?
Install sturdy rails on ALL staircases
No gaps in the railing on the landings. No wiggles or loose screws. A good width for gripping. Make sure even the two steps out the back door are protected with a rail.
Brighten the lights
Is there a light at the top and bottom of all staircases? Add a nightlight for walking overnight. How well are outside paths and doorways illuminated?
Remove or secure throw rugs
If a small rug is a must, choose one with a skid-resistant, rubber layer, or tape it to the floor. The same goes for the edges of large area rugs.
Don't hesitate to introduce a cane or walker
If your relative needs an assistive device but is hesitant to start using one, help encourage that step. If the person tires easily, get a device with a seat for quick rests. Make sure walkers and scooters are fitted properly and that your family member gets instruction on using one.
Avoid the hazardous walking route
This includes icy and snowy sidewalks but also watching out for loose gravel and cracks in the concrete.
Wear shoes around the house
Slippers and bare feet don't have adequate support. Properly fitted shoes with sturdy soles are best.
Joe Rosenthal, MD, a Physical Medicine and Rehabilitation physician who created the Falls Prevention Clinic, says much more can be done to reduce the risk of falling at home through therapy that strengthens muscles, increases endurance and improves gait.
"Falls are a big problem, and unfortunately many people think falling is a natural process of aging, but in reality that's not true."
Now that you have the house in order, here's what else you can do:
Schedule annual eye and ear exams
If you can't hear when someone approaches you from behind, you may startle and lose your balance.
Seek a medication review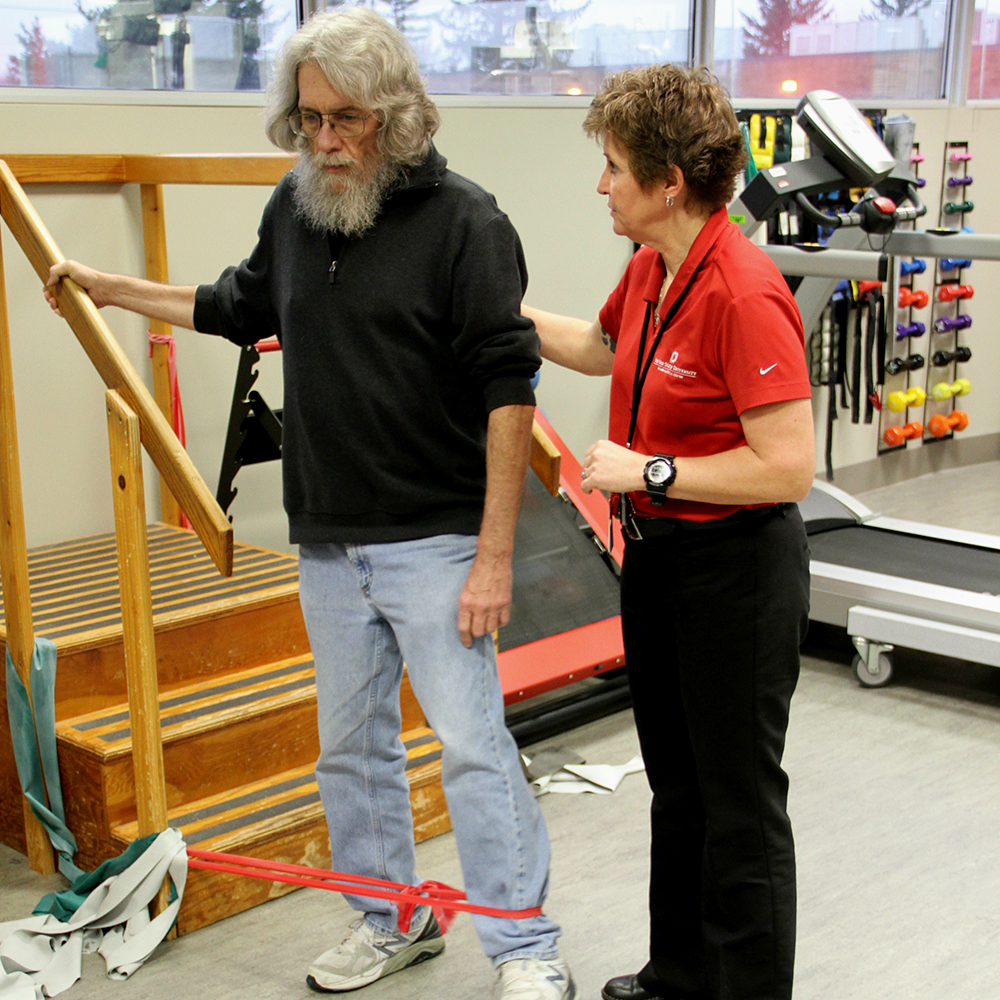 Consider asking your pharmacist or doctor to check your medicines – prescription and over-the-counter – for ones that cause dizziness, drowsiness or low blood pressure.
Rebuild confidence after a fall
Being guarded and fearful to do things can make movements hesitant, increasing fall risk. And sticking close to home can cause isolation and depression. Share this checklist and info about the Falls Prevention Clinic to empower your loved one.
The clinic, in the Martha Morehouse Medical Plaza near main campus, is open on the first and third Tuesday of every month, as well as the fifth Tuesday, when there is one. A referral is needed.
Visit Ohio State Health & Discovery for more stories on health, wellness, innovation, research and science news from the experts at Ohio State.