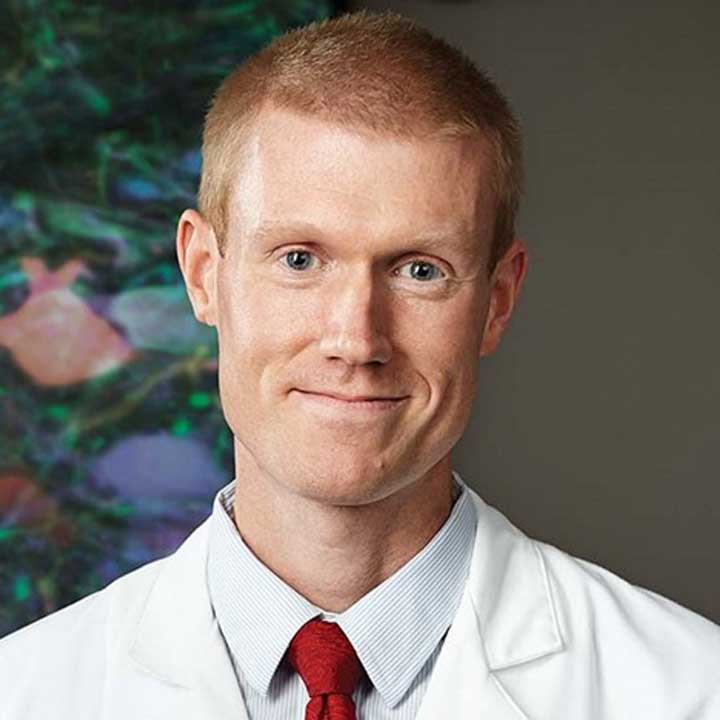 William Arnold, MD
Physician

What's this?

A physician, or doctor, is extensively trained to diagnose and treat complex medical problems. Often, physicians focus their practice on certain disease categories, treatment methods or patient types. Physicians can diagnose and treat illness, prescribe medication, offer medical consultation and advice, perform surgery and more.
Appointments: (614) 293-4969
About Me
I am a physiatrist, or a specialist trained in physical medicine and rehabilitation, with subspecialty in neuromuscular medicine. I work with patients who are dealing with disorders that affect their muscles, peripheral nerves, motor neurons or neuromuscular junctions.
As a clinician, I help my patients by providing them with a precise diagnosis, followed by cutting-edge treatments. In addition, I give my patients access to clinical trials for new and innovative therapies. As a scientist, I am interested in understanding and reducing the effects of genetic neuromuscular disorders and aging on the neuromuscular system.
I feel that my dual training in physical medicine and rehabilitation and neuromuscular medicine gives me a unique perspective to help treat my patients. It helps me understand the impact on the body and design the best treatment plan. My primary goal is to reduce the burden that diseases have on patients and maximize the function of the neuromuscular system.
I truly enjoy Ohio State's collaborative environment. There's a strong sense of teamwork among the clinicians and scientists on our neuromuscular team. This allows scientific discoveries to effectively translate to clinical treatments.
In my free time, I enjoy training for ultramarathons, triathlons and other endurance sports. I am currently training for the Burning River 100 mile run.
Highlights
National Institutes of Health-funded Rehabilitation Medicine Scientist Training Program Fellowship, 2013-2016
Best Doctor in America 2017
Procedures and Conditions I Treat
Neuromuscular Diseases
Carpal Tunnel Syndrome
Hereditary Sensory and Autonomic Neuropathies
Nerve Compression Syndromes
Facial Nerve Injuries
Myelitis
Myasthenia Gravis
Polyradiculoneuropathy, Chronic Inflammatory Demyelinating
Orthostatic Intolerance
Miller Fisher Syndrome
Poliomyelitis, Bulbar
Paraparesis, Tropical Spastic
Paraparesis
Spinal Muscular Atrophies of Childhood
Subacute Combined Degeneration
Kearns-Sayre Syndrome
Refsum Disease
Amyloid Neuropathies, Familial
Amyotrophic Lateral Sclerosis
Hereditary Sensory and Motor Neuropathy
Motor Neuron Disease
Fasciculation
Muscle Hypertonia
Muscle Rigidity
Myokymia
Ophthalmoplegia
Bryophyta
Glycogen Storage Disease Type VII
Distal Myopathies
Muscular Dystrophies
Myopathy, Central Core
Orbital Myositis
Myotonic Disorders
Hypokalemic Periodic Paralysis
Neuromuscular Junction Diseases
Botulism
Myasthenia Gravis, Neonatal
Reflex Sympathetic Dystrophy
Femoral Neuropathy
Peroneal Neuropathies
Radial Neuropathy
Piriformis Muscle Syndrome
Tibial Neuropathy
Pudendal Neuralgia
Brachial Plexus Neuritis
Neuritis, Autoimmune, Experimental
Pain Insensitivity, Congenital
Paraneoplastic Polyneuropathy
Muscular Dystrophy, Duchenne
Muscular Dystrophy, Facioscapulohumeral
Sarcoglycanopathies
Muscular Dystrophy, Emery-Dreifuss
Mononeuropathies
Polyneuropathies
POEMS Syndrome
Tangier Disease
Accessory Nerve Injuries
Hypoglossal Nerve Injuries
Optic Nerve Injuries
Vagus Nerve Injuries
Laryngeal Nerve Injuries
Recurrent Laryngeal Nerve Injuries
Charcot-Marie-Tooth Disease
Spastic Paraplegia, Hereditary
Lambert-Eaton Myasthenic Syndrome
Polyradiculoneuropathy
Stiff-Person Syndrome
MELAS Syndrome
Poliomyelitis
Machado-Joseph Disease
Ophthalmoplegia, Chronic Progressive External
Giant Axonal Neuropathy
Amyloid Neuropathies
Myotonic Dystrophy
Muscle Hypotonia
Sarcopenia
Spasm
Isaacs Syndrome
Glycogen Storage Disease Type V
Muscular Dystrophy, Oculopharyngeal
Myopathies, Nemaline
Myositis, Inclusion Body
Pyomyositis
Paralysis, Hyperkalemic Periodic
Diabetic Neuropathies
Median Neuropathy
Sciatic Neuropathy
Tarsal Tunnel Syndrome
Ulnar Nerve Compression Syndromes
Cervical Rib Syndrome
Polyradiculopathy
Abducens Nerve Injury
Glossopharyngeal Nerve Injuries
Olfactory Nerve Injuries
Trochlear Nerve Injuries
Peripheral Nervous System Diseases
Muscle Spasticity
Myasthenic Syndromes, Congenital
Spinocerebellar Ataxias
Myositis
Cubital Tunnel Syndrome
Guillain-Barre Syndrome
Primary Dysautonomias
Pure Autonomic Failure
Spinocerebellar Degenerations
Postpoliomyelitis Syndrome
Bulbo-Spinal Atrophy, X-Linked
Alstrom Syndrome
Dysautonomia, Familial
Myotonia Congenita
Bulbar Palsy, Progressive
Muscle Cramp
Myotonia
Pseudobulbar Palsy
Glycogen Phosphorylase, Muscle Form
Muscle Development
Muscular Dystrophies, Limb-Girdle
Dermatomyositis
Polymyositis
Paralyses, Familial Periodic
Muscular Disorders, Atrophic
Myasthenia Gravis, Autoimmune, Experimental
Sciatica
Ulnar Neuropathies
Thoracic Outlet Syndrome
Neuritis
Alcoholic Neuropathy
Radiculopathy
Cranial Nerve Injuries
Oculomotor Nerve Injuries
Trigeminal Nerve Injuries
Lingual Nerve Injuries
Neuromuscular Manifestations
Muscle Weakness
Muscular Atrophy
Locations Where I Practice
Outpatient Care East
Outpatient Care East
543 Taylor Avenue Columbus, OH 43203
Please note: Not all physicians schedule patients at each listed location. Please call the "Schedule an appointment" number shown above for scheduling assistance.
Education and Training
Medical Degree
MD
University of Louisville School of Medicine
5/8/2004
Residency
Physical Medicine and Rehabilitation
University of Louisville Frazier Rehab
7/1/2005 - 6/30/2008
Fellowship
Neuromuscular Disease
Ohio State University Wexner Medical Center
7/1/2008 - 6/30/2009
My Videos
More About My Work
My Background
Board Certifications
American Board of Physical Medicine & Rehabilitation
7/1/2009
American Board of Physical Medicine & Rehabilitation (Subspecialty: Neuromuscular)
10/1/2011
My Department
Consulting and Related Relationships
At The Ohio State University Wexner Medical Center, we support a faculty member's research and consulting in collaboration with medical device, research and/or drug companies because a faculty member's expertise can guide important advancements in the practice of medicine and improve patient care. In order to provide effective management of these relationships, the University requires annual disclosures from all faculty members with external interests related to their University responsibilities.
As of 12/20/2018, Dr. Arnold has reported no relationships with companies or entities.