Ohio State administers its 100,000th COVID-19 vaccine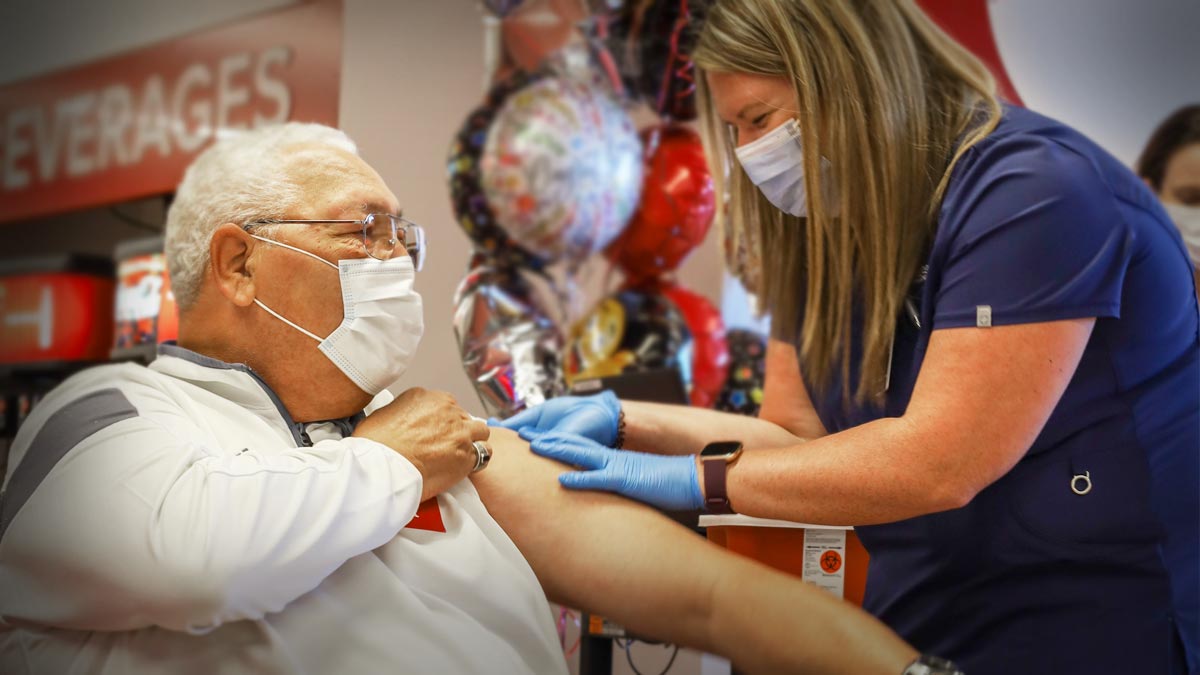 Editor's Note: As of 5/27/21, all COVID-19 vaccinations are administered at East Hospital. Learn how to schedule.
A shot to celebrate
Bruce Cannon knew to expect some fanfare when he walked into the Jerome Schottenstein Center to get his second COVID-19 shot — some applause, a few whoops, maybe a cowbell or two.
But the confetti cannon?
No. He didn't see that coming.
"You know, I had a hint, but I didn't have a clue to what extent," said Cannon, 71, surrounded by TV news cameras and well-wishers from The Ohio State University Wexner Medical Center. "I'm amazed by it. I didn't deserve all this, but I understand the magnitude of what's going on here." –Bruce Cannon
Reaching a milestone
Cannon's arrival at the Schottenstein Center on March 19 marked a moment worthy of glittery celebration: His was the 100,000th COVID-19 vaccine administered by Ohio State since the first 975 doses arrived at the medical center on Dec. 14. Ohio State reached its milestone the same day President Joe Biden said his administration had met its initial goal of 100 million shots in arms nationwide.
"We're extraordinarily proud of our team for their hard work and commitment to vaccinating our frontline workers and community," said Ryan Haley, Ohio State's senior director of ambulatory operations. "Our focus continues to be on protecting the health of the community so that we can finally overcome COVID-19, and this milestone is an exciting and important step in achieving that."
In anticipation of Mr. 100,000's arrival, medical center workers handed out noisemakers and scarlet cowbells and fistfuls of silvery confetti. They positioned bouquets of balloons near the station where Cannon would receive his vaccine. As he made his way from the entrance, the clinic burst out in applause. Cheers echoed through the Schottenstein Center concourse.
"They didn't tell him much about what to expect," said Judy Barker, who was thrilled to see her significant other, a cancer survivor, soak up the spotlight. "He was very, very excited."
"Get the shot"
The clinic quieted as Cannon sat down, answered a few questions and rolled up his left sleeve. Nikki Baughman, director of ambulatory services for the Ohio State Wexner Medical Center, counted to three and administered Cannon's shot, and from behind a pillar the confetti cannon launched, showering them both in celebration. Baughman batted away a few pieces of confetti to press a bandage on Cannon's upper arm. Cowbells and cheers rang out.
Cannon wasn't always so sure about the COVID-19 vaccine. He was leery to get his first shot. But some prodding from his loved ones and assurance in the science behind the vaccines convinced him to go ahead. Now he's looking forward to a July 4 barbecue with family and friends he hasn't been able to see in a long time.
As the TV cameras rolled, he encouraged everyone to follow his lead.
"Get it done," Cannon said. "Get the shot. It's in everybody's best interest."

On March 19, The Ohio State University Wexner Medical Center administered its 100,000th COVID-19 vaccine!
Visit Ohio State Health & Discovery for more stories on health, wellness, innovation, research and science news from the experts at Ohio State.