Moms2B: Reducing infant mortality in central Ohio and beyond
"Today, Black babies bear the burden of generations of stress and unequal treatment."
— Patricia Gabbe, MD, founder of Moms2B
Research has long shown that U.S. infant mortality rates (the number of deaths under age 1 for every 1,000 live births) are significantly higher for many racial and ethnic minorities compared to white infants.
According to the most recent data from the Centers for Disease Control and Prevention (CDC), the national rate for Black infant deaths is 11.4 per 1,000 live births, more than twice the rate for white infants, which is 4.9. In Ohio, 2018 Ohio Department of Health data shows that Black infants die at a rate of 13.9 per 1,000 births — nearly three times the rate of Ohio's white infants, at 5.4.
The disparity is mirrored among fetal mortality rates in Ohio: Black women are more than twice as likely as white women to experience fetal death (intrauterine death of a fetus at any point of a pregnancy).
Ohio State is tackling this problem from multiple angles, using research, treatment programs and community outreach to create a better future for all pregnancies and babies, but especially to reduce those disparities.
A bridge to support, resources and education
It began in a church basement in 2010, with two pregnant moms looking for guidance, and two women who dreamed of a way to keep babies alive in Columbus neighborhoods where so many were dying before their first birthdays.
Moms2B has since helped more than 3,000 parents, about half of whom learned of the weekly program through previous participants.
Moms2B founder Patricia Gabbe, MD, and co-director Twinkle Schottke created the one-of-a-kind Ohio State program to reduce infant mortality rates, eliminate disparities in maternal and infant health and address the social determinants of health that affect pregnancy and babyhood.
In Ohio, Moms2B is so successful that it's become the blueprint for reaching those goals.
The program celebrated its 10th anniversary in part by publishing new research that shows quantitatively how Moms2B leads to a reduction in adverse pregnancy outcomes in communities disproportionately affected by public health issues.
It's a key strategy to undoing the devastating generational effects of structural racism, says Dr. Gabbe, a pediatrician, clinical researcher and professor at The Ohio State University.
"We've changed the public health measure of racism," she says. "We have lowered infant death rates. To paraphrase Frederick Douglass, I see that we can grow healthy children, and we must grow healthy children; this is the only way to heal the broken man and to heal our public health crisis."
In church halls, at Ohio State East Hospital and at Mount Carmel's Center for Healthy Living, parents from eight high-risk neighborhoods see a multidisciplinary team of health professionals each week. The health care workers follow mothers from pregnancy through their babies' first year. Moms2B provides them with access to portable play yards, healthy meals and other necessities, as well as consistent education about prenatal care, safe sleep, nutrition, smoking cessation, breastfeeding and reproductive health.
Postpartum moms receive a home visit from a Mount Carmel Welcome Home nurse and are connected with patient-centered care teams and parenting groups.
Partners who attend weekly sessions are led in Dads2B groups, which provide extra resources and guidance to support healthy pregnancies and children.
Initially funded by a $48,000 Ohio State University grant, Moms2B began in Weinland Park. At the time, the Columbus neighborhood had a median family income of $12,000, its unemployment rate was high and it was a hotbed of violent crime and gang-related activity.
Its infant mortality rate was also three times Ohio's already-high average.
Between 2012 and 2014, the program expanded to three other high-risk neighborhoods, and, between 2016 and 2019, Moms2B grew into eight vulnerable, low-income neighborhoods in central Ohio, thanks in part to funding from the CelebrateOne initiative through the City of Columbus and Franklin County.
The Moms2B team grew, too. Today, it includes former Moms2B parents who've become certified community health workers and a child care assistant.
Successfully reducing deaths and narrowing disparities
Schottke believes the high rates of infant mortality show where these programs that remove health care barriers haven't yet reached at-risk parents.
"Often, when I see that a baby has died, I just have to think, 'Oh, no. We didn't get to that one.'"
Weinland Park, the first Moms2B neighborhood, saw a five-fold reduction in overall infant mortality rates in the program's first four years. By 2017, as the very first Moms2B babies were turning 6 and 7, kindergarten readiness at Weinland Park Elementary topped average readiness scores throughout the Columbus City Schools district.
A study led by Ohio State researchers Courtney Lynch, PhD, and Erinn Hade, PhD, compared birth outcomes for babies born to women who attended Moms2B sessions and for babies born to women in matching circumstances but who never attended a Moms2B session. The groups of moms shared 17 matching variables, including ZIP code, education level, marital status, parents' age and many health factors.
Drs. Lynch and Hade's work, published in the January 2021 Maternal and Child Health Journal, showed that, between 2011 and 2017, Moms2B babies were 55% less likely to die in their first year of life, and Moms2B moms had fewer babies who were premature or low birthweight.
In 2016, as Moms2B was opening its eighth site, the overall infant mortality rate in Franklin County began its steady decline from nearly 8.5 (in 2016) to 6.9 (in 2019). It was a marker of success that Ohio's similarly urban Cuyahoga and Hamilton counties weren't seeing. Ohio's overall infant mortality rate, too, held relatively steady during this time.
That's why Moms2B's successful model is about to be replicated in other areas of Ohio, beginning in Dayton.
"Moms2B Dayton began in fall 2020 (virtually, because of COVID-19)," Schottke says. "By late February 2021, we had 28 women from Dayton joining Zoom sessions and individual meetings with our multidisciplinary team."
Schottke also developed a Moms2B and Dads2B six-week instructional course for health professionals in Dayton.
A decade of Moms2B results shows what many parents and babies from low-income neighborhoods know firsthand: that when social determinants of health are improved, babies are better able to thrive.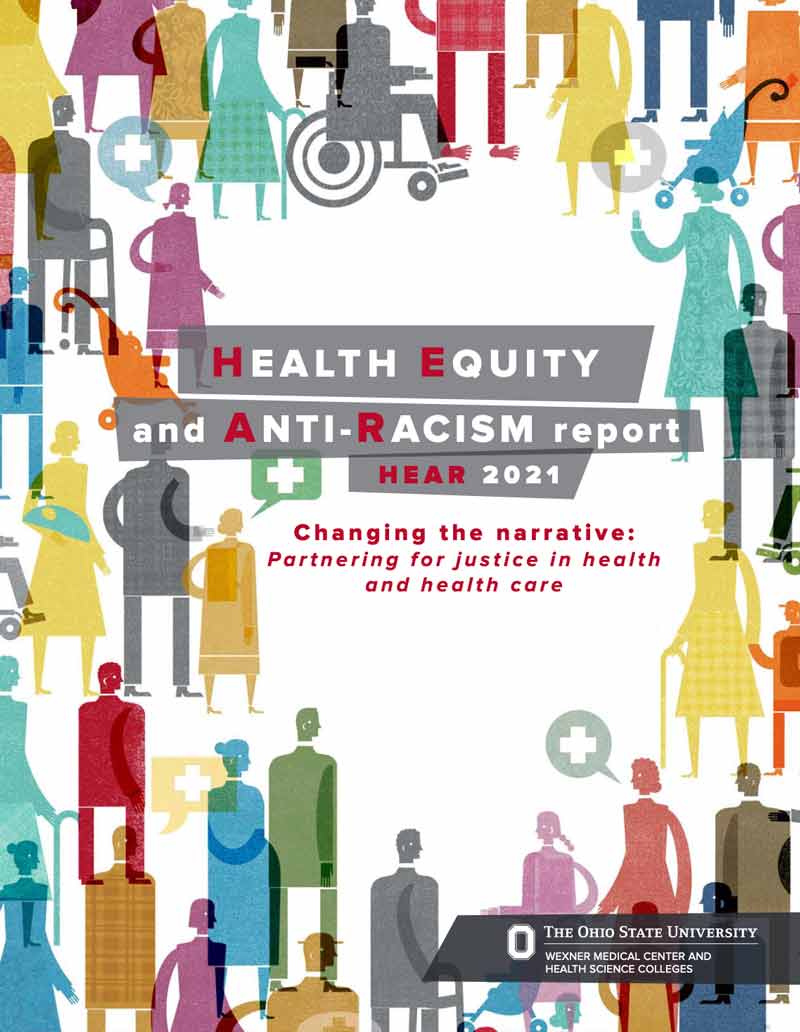 2020-2021 Health Equity and Anti-Racism (HEAR) report
Changing the narrative: Partnering for justice in health and health care
Download the full report to read all the stories
Visit Ohio State Health & Discovery for more stories on health, wellness, innovation, research and science news from the experts at Ohio State.