Ohio State first to roll out Johnson & Johnson COVID-19 vaccine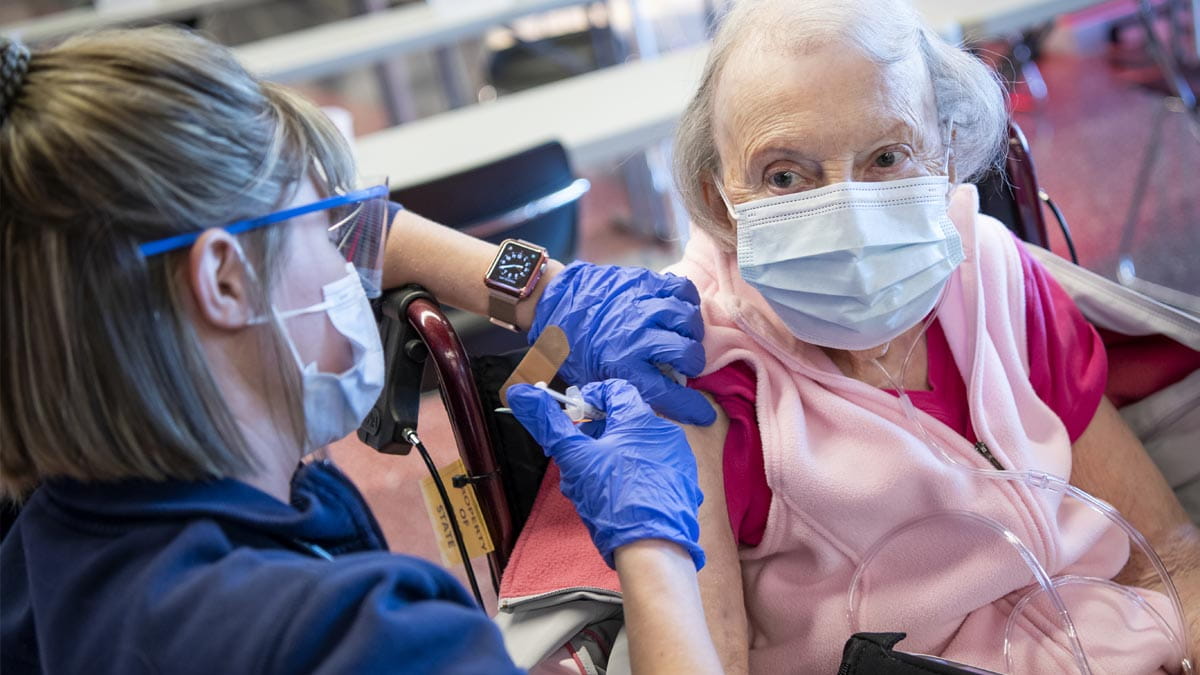 Getting the call
While those around her began to get their first and second shots of the COVID-19 vaccine, 84-year-old Nancy Heber could only wait. And worry.
Her age qualified her for the vaccine, and her health issues left her fearing that catching the virus could be a death sentence. But she was heartbroken to discover she was allergic to an ingredient in the available Pfizer and Moderna COVID-19 vaccines.
So she did the only thing she could do — she continued to hunker down in her Upper Arlington, Ohio, home and hope for some relief.
It came Tuesday, in a phone call from The Ohio State University Wexner Medical Center.
That afternoon, her daughter wheeled her into Ohio State's Jerome Schottenstein Center, where national and local news reporters watched Heber become one of the first people in the country to receive Johnson & Johnson's single-dose COVID-19 vaccine.
"To be able to get it today was the most exciting thing I could imagine," 84-year-old Nancy Heber said. "Now I feel like I can be free."
A third safe, effective vaccine
Ohio State was one of the first hospitals in the nation to administer COVID-19 vaccines, and it remains at the forefront of curbing the pandemic, vaccinating thousands of patients each day at its mass vaccination clinic within the Schottenstein Center. The Johnson & Johnson vaccine, authorized just days ago, adds even greater strength to the effort. With an initial shipment of 300 doses, Ohio State will begin its full public rollout of the new vaccine on Thursday.
Depending on availability, those who receive their shot at the Schottenstein Center may be able to choose among the three vaccine options — but Ohio State's medical experts say the best shot is whatever one you can get.
"We strongly believe that all three are effective, and all three are safe," said Dr. Andrew Thomas, chief clinical officer for the Ohio State Wexner Medical Center.
"We recommend anyone who's offered the opportunity to get a vaccine to get it. It's really important for as many people to be vaccinated as possible." –Dr. Andrew Thomas
Just a single shot
Unlike the Pfizer and Moderna vaccines, the Johnson & Johnson shot doesn't use messenger ribonucleic acid, or mRNA, to stimulate an immune response. Instead, it uses a modified, harmless virus to deliver immunity instructions to cells in the body. While studies have shown that it's slightly less effective at preventing moderate or severe cases of COVID-19, it's just as effective as the mRNA vaccines at preventing COVID-19-related hospitalizations and deaths.
And it requires just one shot instead of two, which is likely to be appealing for those who fear needles or have difficulties making it to multiple appointments."I think it's going to be a game changer for a lot of people," said Nikki Baughman, director of ambulatory services for the Ohio State Wexner Medical Center.
'One of the greatest days'
It was certainly a game changer for Barbara Schmalenberger, 86, who held out for the Johnson & Johnson vaccine to cut down on possible two-shot side effects she worried would exacerbate her heart and lung issues. On Tuesday, she got the vaccine her six children had been waiting for, and Schmalenberger, who has "been holed up in my place," started dreaming again about those salmon dinners she's been missing at her favorite local restaurants.
Heber, telling her story to a crush of cameras and microphones, also began to envision her plans once her vaccine takes effect: Visiting the son in Colorado she hasn't seen in two years. Swinging by her local garden store. Planting a redbud tree to commemorate this, "just one of the greatest days of my life."
"I wish you could see my face," 84-year-old Nancy Heber said from behind her mask. "I'm grinning from ear to ear."
On March 2, Ohio State administered the first Johnson & Johnson COVID-19 vaccines in the United States. Requiring just one dose, this is the latest vaccine to receive Emergency Use Authorization from the FDA.
Visit Ohio State Health & Discovery for more stories on health, wellness, innovation, research and science news from the experts at Ohio State.