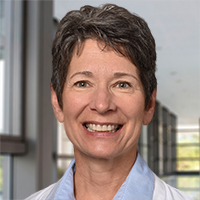 Renee Schnug, APRN-CNP
Nurse Practitioner

What's this?

A nurse practitioner is extensively trained to treat illness or disease and to prescribe medication to their patients. They work on teams with a licensed physician, but can treat patients with significant autonomy. Nurse practitioners work in a variety of settings, including primary care and various other medical and surgical specialties.
About Me
As a cardiology nurse practitioner who specializes in adult congenital heart disease, I have the privilege of working with adults who are affected by cardiac defects that were present at birth.
I am able to provide in-depth education to our patient population regarding their diagnosis as well as the cardiac testing that is conducted within our nurse practitioner clinics. In addition, I am able to work with one patient on several occasions if frequent follow-up visits are needed.
I am passionate about Ohio State because it is a well-respected institution that offers some of the world's most cutting-edge technology.
When I'm not at work, I love reading, running, biking, competing in triathlons and most importantly – playing with grandchildren!
Highlights
Received the Cameo of Caring Award, 2009
Procedures and Conditions I Treat
Cardiovascular Diseases
Heart Defects, Congenital
More About My Work
My Background
My Department
My Division
Cardiovascular Medicine