Philanthropy has been key to the two decades of groundbreaking work at the Dorothy M. Davis Heart and Lung Institute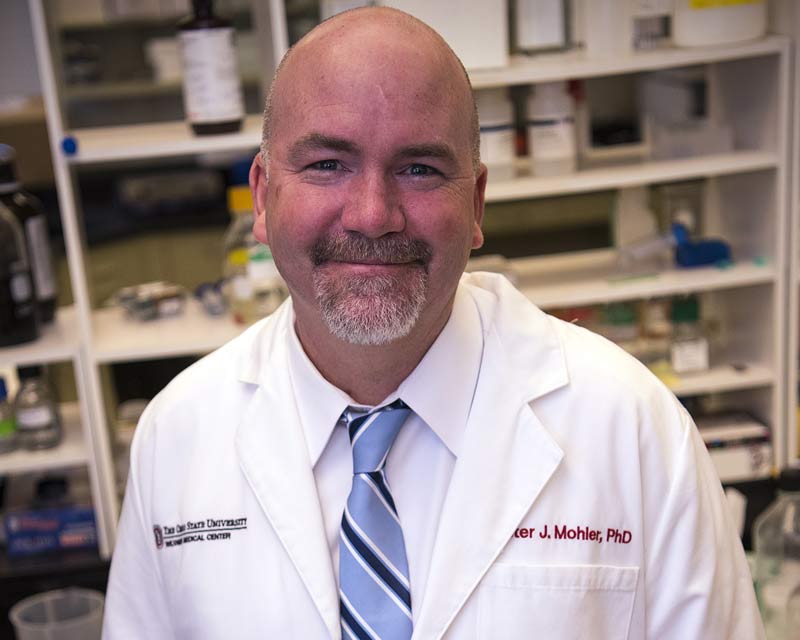 The William H. Davis, Dorothy M. Davis and William C. Davis Foundation made a combined gift of $11 million to establish the Dorothy M. Davis Heart and Lung Research Institute (DHLRI), which opened in October 2000. The impact of that gift has been immeasurable.
When it opened as a 96,000-square-foot free-standing building, the DHLRI was one of the largest and most comprehensive institutes in the country devoted to cardiovascular, pulmonary, renal and metabolic disease.
Today, work associated with the institute takes place at six locations throughout The Ohio State University Wexner Medical Center campus, involving more than 200,000 square feet of research space. Funding has grown to more than $30 million a year.
"The rate at which the DHLRI has progressed exceeded all expectations and could not have been predicted 15 or 20 years ago," says Thomas Ryan, MD, executive director of the Richard M. Ross Heart Hospital and director of The Ohio State University Heart and Vascular Center.
The key to the DHLRI's success is that it was always designed to foster collaboration among numerous teams of experts from across disciplines at Ohio State. Today, researchers and faculty across eight Ohio State colleges and 26 departments work together at the DHLRI to tackle some of the biggest health issues facing our world today.
"I think the biggest area is focusing on team science," says Peter Mohler, PhD, chief scientific officer at The Ohio State Wexner Medical Center and director of the DHLRI. "The ability to get different types of people together from different backgrounds to solve complex problems has really taken us to a new level and allowed us to answer incredibly important and complex questions."
In this way, the DHLRI has been a beacon. This collaborative approach stands as the model for how future research spaces at the Ohio State Wexner Medical Center will be constructed, with interdisciplinary teams sharing space.
One of those projects, the Interdisciplinary Research Facility in the Innovation District on West Campus, will contain dedicated space for research into atrial fibrillation, for example. A new 820-bed inpatient hospital, will have space for ECHOs and vascular studies.
The new inpatient hospital will have a floor dedicated to transplant, which will make a huge difference in the number of organs we'll be able to perform perfusion on and use in patients. Suburban facilities in New Albany and Dublin, will have eight vascular surgery exam rooms and 12 for cardiology.
The expansion of the DHLRI's work into these new facilities stands as the most compelling evidence of the success of the institute.
An institute that began with a transformational gift.