Dr. Linda Stone takes advantage of the IHSC donation match opportunity to make a lasting impact on the medical school that made a difference in her life.
Linda Stone (right) and her husband, Larry.
The year 1976 was a big one for Dr. Linda Stone and her husband, Larry. Larry was tapped to become the founding director of the Ohio Judicial College, and Linda, now the retired associate dean for student affairs at the Ohio State University Medical School, was accepted to The Ohio State University College of Medicine.
She was a little surprised by her admittance. Not because she was not qualified, but because she was 33. At the time, women older than 28 were often not accepted because it was assumed they would not have adequate time to pursue their careers after earning their degrees. (Men were allowed extra time because they may have served in the military.)
"Two women made that happen," Stone said. Elizabeth Ruppert, MD, now retired from the Medical College of Ohio, interviewed Stone, and then approached Margaret Hines, PhD, a retired Associate Professor, who was on the admissions committee. Together, Ruppert and Hines argued in Stone's favor with the admissions committee and succeeded.
Stone has never forgotten the faith Ruppert, Hines, and The Ohio State University College of Medicine showed in her.
"Being accepted at the College of Medicine was a very significant thing for me," she says. Stone's commitment to the College of Medicine began then, and the field of medicine and the college benefited.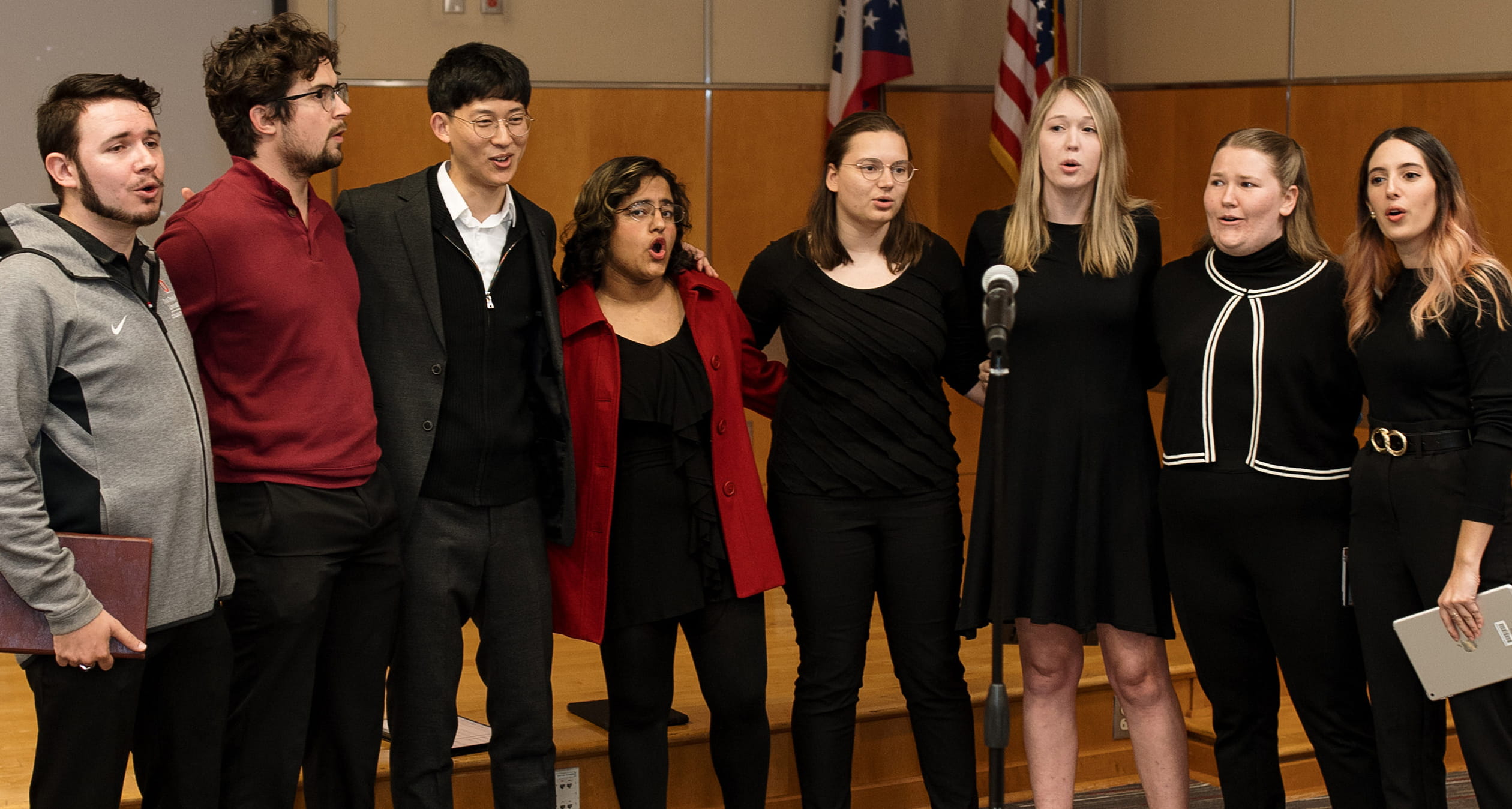 A Capella group, Ultrasound, performing at 2022 Courage to Teach event.
Stone packed a lot into her career. After practicing family medicine, she returned to the College of Medicine to build programs to encourage medical student interest in practicing family medicine and became the college's associate dean for student affairs. She founded the Humanism in Medicine Program in 2009. Humanism in Medicine allows medical students and all College of Medicine and Ohio State University Wexner Medical Center employees to embrace their lives and interests outside of healthcare with opportunities to enjoy or participate in cultural and artistic activities and performances, service and activism opportunities and enrichment. (The program lends itself to medical puns; the A Capella group is called "Ultrasound.") Stone was ideally suited for this role; her undergraduate and graduate degrees were in speech, theater and communications.
Her long relationship with the Ohio State University College of Medicine as a student, graduate, and an employee and innovator informed Stone's decision, with Larry, to donate to the Interdisciplinary Health Sciences Center (IHSC). The IHSC will bring together Ohio State University's health science colleges so researchers and students can collaborate and work together on projects that aren't confined to one discipline.
"Larry and I have been married 57 years, and we discuss all our giving. He's worked a lot with medicine and the arts with me," Stone said, alluding to Larry's communications and videographer duties in the Humanism in Medicine projects. Larry pointed out that the IHSC donation match is a rare opportunity, and it would be a way to leave a lasting impact on the medical school that made a difference in both their lives. Like Stone's Humanism in Medicine program, this gift will be an enduring legacy; the IHSC will be important to both researchers and students for generations to come.
"It comes down to love," Stone said. "If you love something enough, you make room for it. In your life, and in your budget."
Join Dr. Stone and take advantage of the IHSC match to make a lasting impact on the College of Medicine.
Donate Online
Donate by Mail
The James/Wexner Medical Center Development Office
c/o The OSU Foundation
PO Box 710811
Columbus, OH 43271-0811