With tens of thousands of Americans dying from opiate overdose, The Ohio State University Wexner Medical Center Department of Physical Medicine and Rehabilitation is helping people with chronic pain decrease their opioid burden while improving their function.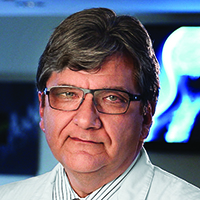 Jerry Mysiw, MD
Opened in July 2019, the department's Chronic Pain Opiate Reduction Clinic uses traditional behavioral and physical activity interventions alongside noninvasive brain stimulation techniques.
One of the clinic's objectives is to systematically analyze patient outcomes to identify the most effective interventions for chronic pain management and opioid reduction. The data-driven clinic works with a maximum of 40 patients over eight weeks to intensely follow each patient's response to interventions.

Ohio State will disseminate that data to other clinicians, says Department Chair Jerry Mysiw, MD.

"The dissemination will be done in a manner that makes clinicians aware of new effective non-opiate intervention strategies identified in this program, and it will be done so that the clinicians can reference our data when seeking prior authorization from insurance companies," Dr. Mysiw says. "This is important because obtaining prior authorization for non-opiate interventions is almost impossible as the industry typically states that there is no compelling evidence."

The clinic is pushing conventional boundaries. It is applying noninvasive brain stimulation techniques to help patients better control their pain. Patients also receive home sensors — provided by the Stan and Jody Ross Center for Brain Health and Performance — that show biofeedback in real time to indicate what behaviors, activities and food intake aggravate their autonomic nervous system, which tends to be out of balance in people with chronic pain.

"Hopefully we will identify new effective strategies to address a component of this public health crisis," Dr. Mysiw says.
How you can help
Donate Online
Make a gift online
Donate by Mail
The James/Wexner Medical Center Development Office
c/o The OSU Foundation
PO Box 710811
Columbus, OH 43271-0811