Provider trainings lead to more equitable women's health care
Ohio State is filling training gaps for Ohio health care providers with two projects designed by experts in maternal-fetal medicine and emergency medicine working with the Ohio State College of Medicine's Clinical Skills Education and Assessment Center. Both projects are free for providers and funded through the Ohio Department of Health (ODH).
Virtual Telehealth Delivery Training for Women's Health Providers seeks to help providers give better care to patients who can't easily access early prenatal and specialty care.
"Before COVID-19, 92% of obstetric providers in Ohio hadn't used telehealth, but now, at least 77% of them use it regularly," says Cynthia Shellhaas, MD, MPH, a maternal-fetal medicine specialist who helped design both training programs. "This training helps them lead those encounters effectively."
Three modules, which began sessions in September 2020, take women's health providers through simulations to learn efficient workflow management, co-management, virtual patient assessment and other fundamentals of telehealth.
"The scenarios are varied provider-to-patient encounters that use standardized patients, or actors," Dr. Shellhaas says. "They include a patient with limited English proficiency working through an interpreter, and a patient who's in the country illegally."
Two other simulation modules are provider-to-provider communication trainings — one for specialists using video-consult services to work with non-specialists and referring physicians; the second designed for the reverse, teaching referring physicians to use telehealth for patient care and engaging specialists.
A second ODH-funded program, Obstetric Emergency Simulation Training for Emergency Medicine Providers, is designed for emergency medicine (EM) physicians, physician assistants, nurse practitioners, nurses and EMT/EMS.
"Emergency departments see a lot of pregnant and postpartum patients. While 98% of Ohio hospitals have reported conducting simulation drills for obstetric emergencies, 100% of those drills involved labor and delivery or postpartum staff — but only 30% involved emergency department staff. Considering that some Ohio hospitals don't even have maternity units, that leaves EM providers unprepared."
— Cynthia Shellhaas, MD, MPH
The program, which began its first trainings in August 2020, puts participants through virtual simulations to improve recognition, treatment and management of obstetric emergencies including hypertensive emergencies, postpartum hemorrhage and cardiomyopathy.
One session involves the simulations themselves, but two other trainings offer EM physicians and nurse educators the tools to facilitate their own low-cost obstetric emergency simulations and teach others at their home hospitals.
Listening and learning from patients
In each of Ohio State's infant mortality and maternal health programs, health care professionals often stress that the team approach requires input from the patients themselves.
"Not only are we able to teach moms through Moms2B, but the moms also teach us about the barriers this population faces," says Moms2B founder Dr. Gabbe. "If health care professionals are more informed about the obstacles expectant mothers need to overcome, we can better help them have healthy pregnancies and babies."
Thanks to an Ohio Department of Health grant, a program led by Ohio State maternal-fetal medicine specialists aims to analyze the health care experiences of minority women — particularly African American women — and turn the information into guidance to help health care providers give more patient-centered, culturally sensitive care.
Led by Kamilah Dixon, MD, an Ohio State obstetrician-gynecologist and medical director of Moms2B, the "Disparities in Maternal Health" grant program began surveying women in mid-March 2021.
Participating patients are surveyed early in pregnancy through the postpartum phase, examining their history and exposure with perceived medical biases in prenatal, labor/delivery and postpartum care.
Monique McKiever, MD, an Ohio State maternal-fetal medicine fellow and co-investigator on the project, says the goal is to understand links between patients' experiences with bias, medical mistrust and other health care barriers, and how these experiences affect prenatal care.
Following the survey period and beginning in April, Dr. Dixon, Dr. McKiever and Dr. Rood, and Nicole Thomas, a representative from the Kirwan Institute for the Study of Race and Ethnicity, led community listening sessions with patient participants.
"We want to understand what barriers to medical care they experience, and whether they feel listened to," Dr. McKiever says. "An issue in morbidity and mortality research is that we're often seeking to help underserved patient populations without letting them have a voice. In this project, we're really putting them at the center and letting them help direct the future of care."
Qualitative analysis on the responses of more than 300 patient surveys will help the researchers develop informative instruction for women's health care providers throughout Ohio. The guidance will reach well beyond implicit bias training, the researchers say.
"We know, from previous Ohio State research in similar communities of pregnant mothers, that they're not feeling heard — that providers would come in and seem to have perceived biases because of race or some other factor," Dr. McKiever says. "But these women also know their bodies and their babies best. We have to identify and adopt ways to be more sensitive and inclusive in our care."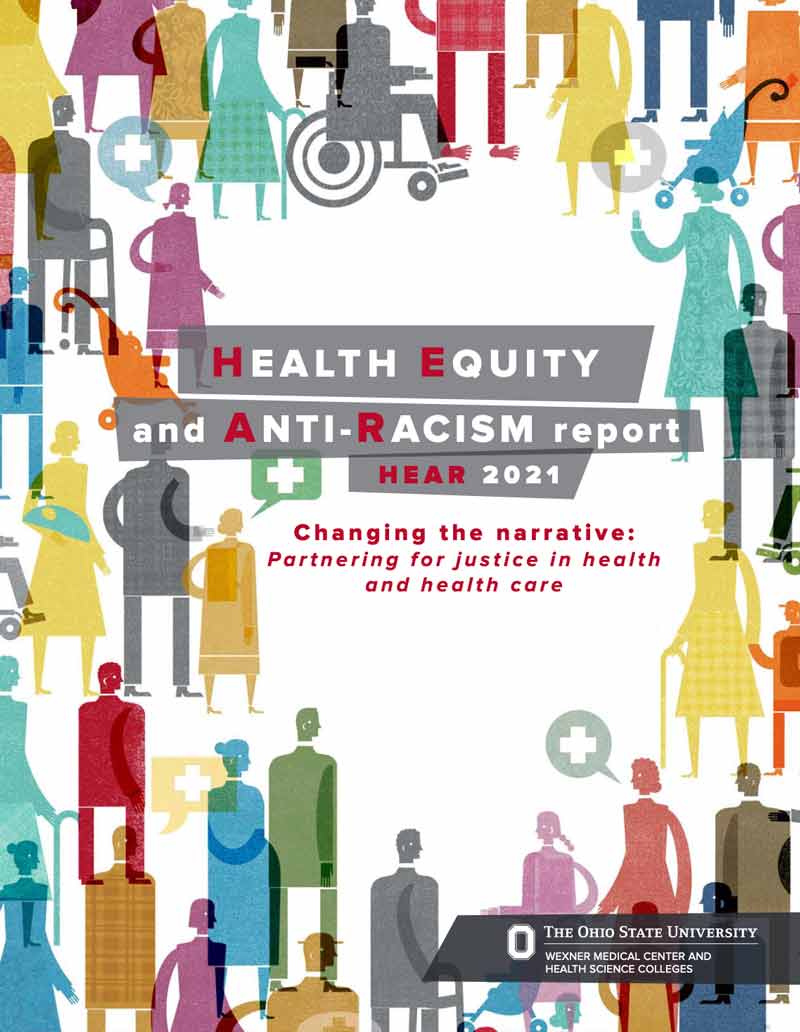 2020-2021 Health Equity and Anti-Racism (HEAR) report
Changing the narrative: Partnering for justice in health and health care
Download the full report to read all the stories
Visit Ohio State Health & Discovery for more stories on health, wellness, innovation, research and science news from the experts at Ohio State.