What is MyChart Bedside?
MyChart Bedside is a mobile application that gives you secure access to parts of your inpatient medical record.
With MyChart Bedside you can:
View your personal medical information
Review educational materials about your health concern
Receive your inpatient lab results
Send non-urgent messages to your Ohio State doctors and care team


Remember to always use your call light for urgent needs

Send selected non-urgent requests to your Ohio State care team members to make your stay more comfortable.
Connect to MyChart so you can continue to manage your health information after discharge and follow care instructions at home.
Important information:
This tablet is intended for use by the patient or their designated health care proxy only
Don't store personal data on the tablet
Use this tablet for medical education and entertainment
Don't use this device to perform illegal activities or view content that is offensive
Let your nurse know immediately if the tablet is lost, stolen, or damaged
Getting started
How to access your medical information
1. Tap the MyChart Bedside icon on the home screen of the hospital tablet.
2. Tap Bedside Tutorial to watch a video about MyChart Beside features.
If you're using your own smartphone or tablet instead of the hospital's device, watch the MyChart Now tutorial video. MyChart Now gives you most of the same features as Bedside but doesn't include Using MyChart Bedside activity, Services After Discharge activity, Services During your Stay activity, Notes activity, Taking Care of Me activity or Order My Meals activity.
Connect your MyChart
If you already have MyChart, you can log in to your MyChart account from the MyChart screen.
If you don't have MyChart, sign up here or tap Create your MyChart account at the bottom of the Bedside home screen. MyChart is Ohio State's patient portal to securely access your medical record, schedule appointments and manage your health care online.
Features in MyChart Bedside
Learn about features available on your tablet to help you manage your care during your stay
1. Taking Care of Me: Learn about and see photos of your hospital care team. Tap a photo to learn more about a specific care team member.
2. Happening Soon shows your daily schedule. View past and future events during your stay such as:
Scheduled procedures and tests
Medicine administrations
Upcoming hospital appointments
Events that you've added, such as a visit from a family member
To add an event yourself, touch the blue button at the bottom of the screen.
3. My Health shows your recent vital signs and lab results. Lab results are displayed in the tablet after they're posted to your medical record. Tap a result to see more detail about it, including graphs of changes to your results during your hospital stay. If you have any questions about your vital signs or lab results, ask your care team.
4. Messages is used for non-urgent communications with your care team. For example, you might have questions for your physician about your diagnosis. Your messages will be reviewed and responded to by the end of the day either in MyChart Bedside or in person by a member of your care team.
If you need urgent assistance, use the call light in your room NOT MyChart Bedside.
To send a message, touch the Write a Message to Your Care Team button at the bottom of the screen. Then, type your message and touch the Send button.
5. A Few Questions is used for completing questionnaires such as the Patient Profile.
6. Order My Meal allows you to place your meal requests using the tablet. It's our unique patient meal service, similar to hotel-style room service.
You may custom-build each meal, select preferred delivery times and order several meals in advance.
Food options will follow the diet prescribed by your doctor.
For carbohydrate-controlled diets, the only meal delivery times will be 8 a.m., noon and 5 p.m.
Please contact your nurse if you'd like anything between meals.
7. To Learn is a patient education section to read articles and watch videos your care team has assigned to help you learn about your medical concern and care instructions. After reviewing an item, tap I Understand. This will let the staff know that you've reviewed the material and understand it.
If you have questions about a patient education item, tap I Have Questions to let the staff know you would like to speak with someone.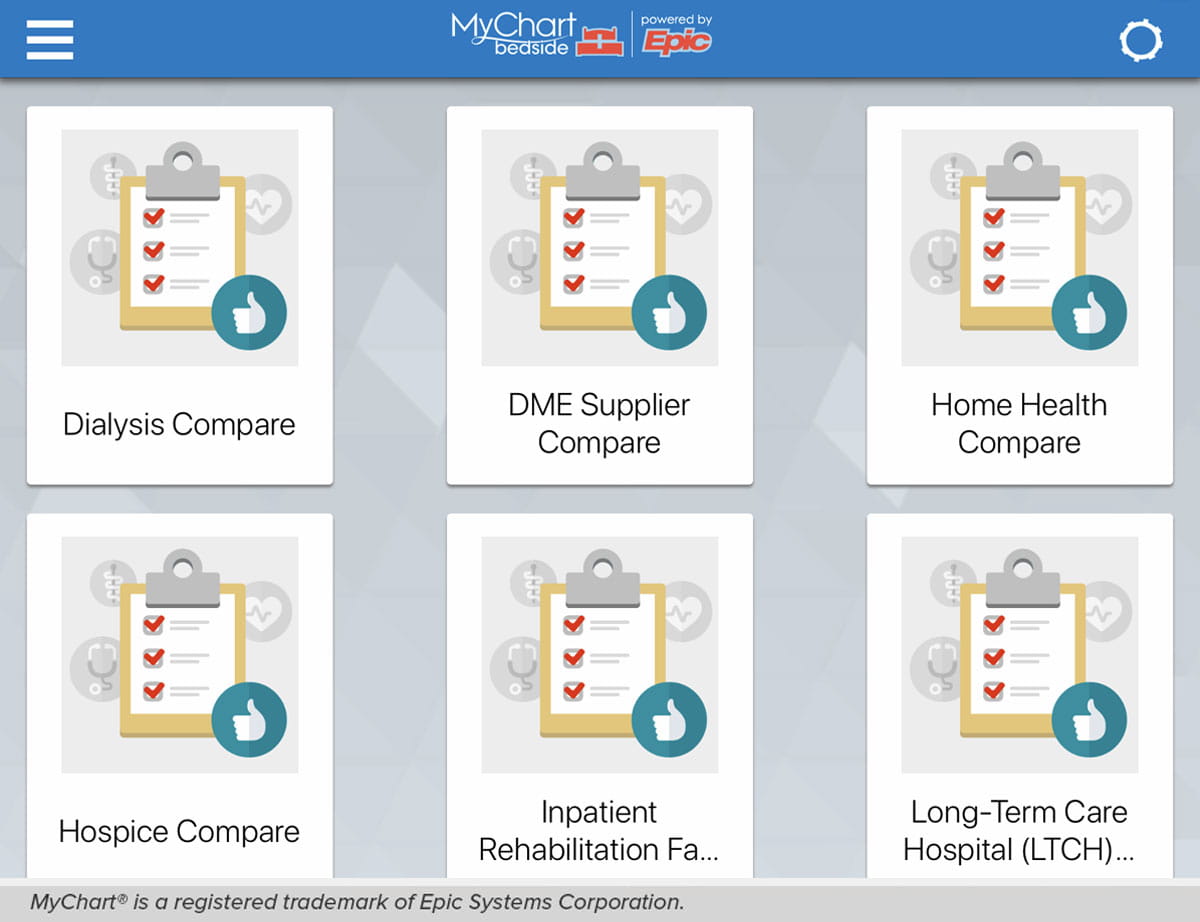 8. Note to Self is a place to write notes you can reference anytime during your stay. You may want to take notes when you talk to your care team or add questions you don't want to forget to ask when they visit you next. These notes are only available to you – they're not sent to your care team.
Touch the Text button at the bottom of the screen to type in the note.
Touch the Audio button to record an audio message for yourself.
Touch the Video button to record a video message for yourself.
9. Sign Forms lets you review and sign your consent forms electronically.
10. I Would Like allows you to make selected requests. Touch one of the items listed to place a non-urgent request. Your requests will be received and reviewed daily by a staff member.
For example, you might want to ask for help with:
Patient education
Visits from Customer Service/Patient Experience, Pastoral Care or a chaplain, Social Work, Discharge Planning or Nutrition Services
Entertainment
Placing orders with the medical center gift shop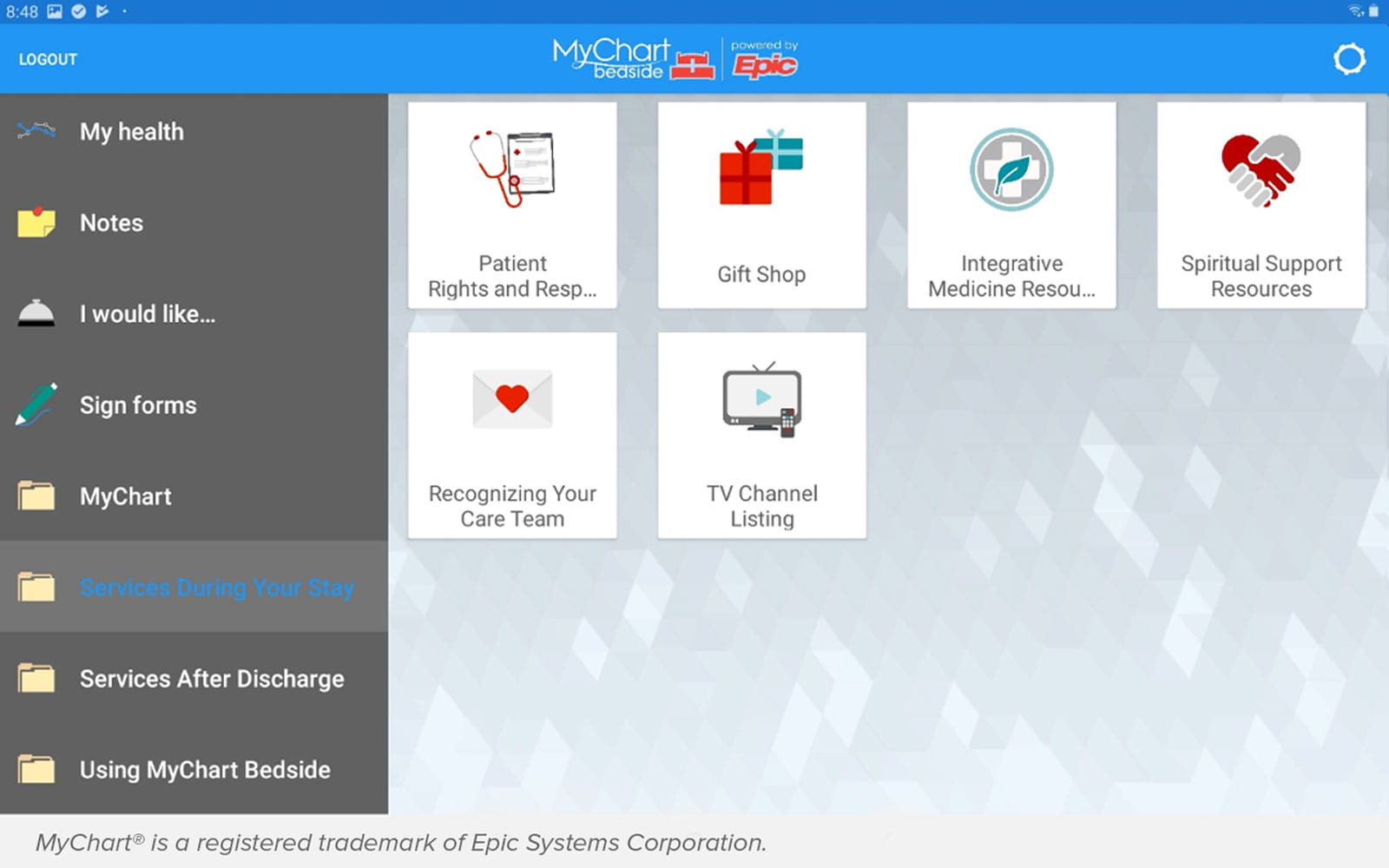 Other ways to use your tablet
Browse the web, video chat, have a video visit with your care team and more.
External websites and applications are available for your entertainment on the tablet. On the home screen you'll see folders for news, sports, music, games and social media. Tap a folder to view the available options. Tap and install the application you wish to use. You can select Skip when asked for credit card information.
Video Visits with your care team may be done while you're in the hospital, using a video program called Microsoft Teams. A member of your care team will let you know when you should use Teams and will help you get set up.
Video chat with loved ones, friends and family. To help admitted patients better connect with their loved ones, Zoom is now available on the home screen of MyChart Bedside tablets. Patients can set up their own account and meetings if they're able to do so. For patients who are unable to set up an account or meeting, staff members can help. The patient does need to provide the loved one's contact information. Patients don't need to have a MyChart account to use Zoom or the Bedside tablet.
Other services during your stay
Patient Rights and Responsibilities
Gift Shop
Integrative Health Resources
Spiritual Support Resources
Recognizing Your Care Team
TV Channel Listing
The James Art Program
Technical specifications and support
Light Sensor detects the presence of objects near the tablet, and light conditions.
Front Camera is enabled during video calls.
Power/Lock Key lets you turn the tablet on or off, turn the screen on or off or lock the screen. Please don't power off or restart the tablet.
Volume Key adjusts the volume of your tablet's sounds. From the home screen, press to adjust master volume.
Back Key lets you return to the previous screen, or close a dialog box, options menu, the Notifications panel or on-screen keyboard.
Speaker plays notification tones and sounds.
Home Key returns you to the home screen. Press and hold to see recent apps and to access Task Manager and Google Now.
Menu Key allows you to access a menu from most of your tablet's screens.
Display provides a touch-sensitive interactive surface for your tablet.
3.5 mm Headset Jack allows you to plug in an optional headset.
To turn your tablet on, press and hold the Power/Lock Key for a few seconds. When the tablet turns on, the home screen appears.
Do not power off/turn the tablet off. If the tablet needs to be charged, ask a member of your care team for assistance.
Terms and Conditions of Use
Terms and Conditions of Use
The electronic tablet, the MyChart Bedside application, and all other resources on the tablet are provided to you, as an optional service ("Service") by The Ohio State University Wexner Medical Center ("OSU Medical Center"). In addition to providing you with another option to access your medical information, the Services may also be used for entertainment, education, and other information options.
The tablet is the property of OSU Medical Center and is not permitted to leave your room without consent. You are responsible for loss of or damage to the tablet.
The Services are not intended for urgent communication with your health care provider. If you are in need of immediate medical attention please use the call light at your bed.
Purpose of MyChart Bedside Application ("MyChart Bedside")

Content of MyChart Bedside

Proxy

Prohibited Activities

Security

Termination of Service

Disclaimer