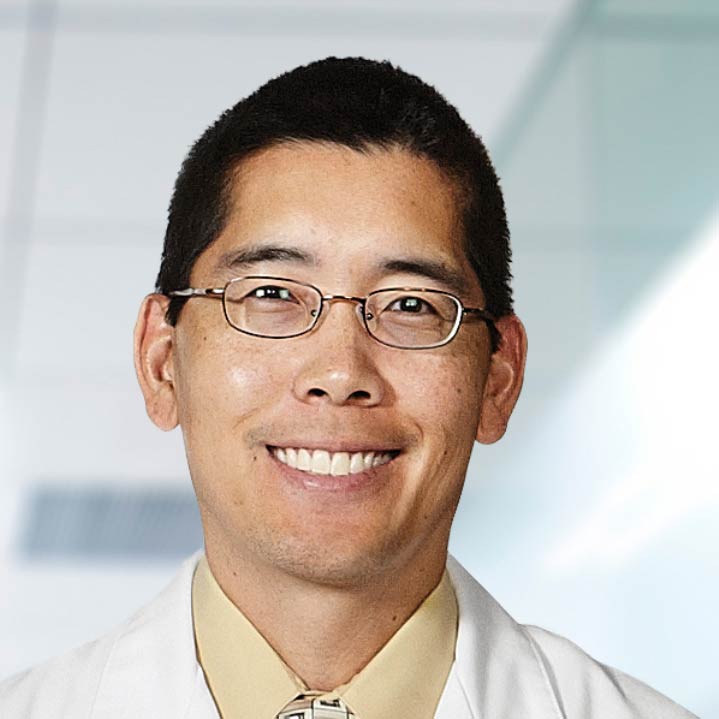 Michael Go, MD
Physician

What's this?

A physician, or doctor, is extensively trained to diagnose and treat complex medical problems. Often, physicians focus their practice on certain disease categories, treatment methods or patient types. Physicians can diagnose and treat illness, prescribe medication, offer medical consultation and advice, perform surgery and more.
Appointments: (614) 293-8536
About Me
No matter who I'm seeing, I try to think of each patient as though they were a family member. When you think of it that way, it really changes how you act and communicate with them. For example, I understand it can be difficult to navigate the complexities of a complicated health care system, especially when you are sick or have a serious problem. That's why my team and I try to be as empathetic as possible when talking to patients, whether it is over the phone, in the office, or in the hospital. My experiences with my patients have been so rewarding because of this attitude.
As a vascular surgeon, there is great variability in the things you do and the type of people you see. I take care of young patients with sports-related problems and older patients with vascular disease, such as blockages, aneurysms and strokes. I take care of orthopaedic patients, cancer patients, and people with venous diseases such as deep vein thrombosis (DVT) and varicose veins.
When treating patients with vascular disease, I may treat them with medications, but when it's necessary, I perform minimally invasive procedures as well as traditional open surgeries when appropriate. My team is expert in the state of the art in all areas of vascular surgery. This expertise, combined with our emphasis on customer service, is what I hope makes us a top choice for patients.
Highlights
Named to the Castle Connolly list of "Regional Top Doctors," 2015–2018
Rated in the top 10 percent of physicians in the nation for patient satisfaction, 2017
Procedures and Conditions I Treat
Wound Healing
Veins
Vascular Diseases
Aneurysm
Aortic Aneurysm
Aortic Aneurysm, Abdominal
Aortic Aneurysm, Thoracic
Aneurysm, Ruptured
Aneurysm, Dissecting
Aneurysm, Infected
Aortic Rupture
Aortic Diseases
Aneurysm, False
Aortic Arch Syndromes
Ischemic Attack, Transient
Aortitis
Endoleak
Endovascular Procedures
Iliac Aneurysm
Intermittent Claudication
Arterial Occlusive Diseases
Peripheral Arterial Disease
Peripheral Vascular Diseases
Mesenteric Vascular Occlusion
Arteriosclerosis
Atherosclerosis
Diabetic Foot
Embolism and Thrombosis
Limb Salvage
Optic Neuropathy, Ischemic
Thrombectomy
Thrombosis
Carotid Stenosis
Carotid Artery Diseases
Carotid Artery Thrombosis
Carotid Artery, Internal, Dissection
Carotid Artery Injuries
Brain Infarction
Brain Ischemia
Carotid Intima-Media Thickness
Endarterectomy, Carotid
Cerebrovascular Disorders
Cerebral Revascularization
Infarction, Anterior Cerebral Artery
Infarction, Middle Cerebral Artery
Infarction, Posterior Cerebral Artery
Stroke
Subclavian Steal Syndrome
Endarterectomy
Blue Toe Syndrome
Arteriosclerosis Obliterans
Diabetic Angiopathies
Intracranial Arterial Diseases
Atherectomy, Coronary
Cervical Rib Syndrome
Thoracic Outlet Syndrome
Raynaud Disease
Renal Artery Obstruction
Retinal Artery Occlusion
Retinal Vasculitis
Retinal Vein Occlusion
Arterio-Arterial Fistula
Arteriovenous Fistula
Arteriovenous Malformations
Arteriovenous Shunt, Surgical
Upper Extremity Deep Vein Thrombosis
Vascular Fistula
Vascular Grafting
Vascular Surgical Procedures
Mechanical Thrombolysis
Vascular System Injuries
Vena Cava Filters
Venous Thromboembolism
Embolectomy
Embolic Protection Devices
Embolism, Cholesterol
Embolism, Paradoxical
Balloon Embolectomy
Intracranial Embolism and Thrombosis
Venous Thrombosis
Venous Insufficiency
Vertebral Artery Dissection
Vertebrobasilar Insufficiency
Hypertension, Renovascular
Pulmonary Embolism
Pulmonary Infarction
Hypertension, Renal
Hypertension
Hypertension, Malignant
Hyperemia
Intra-Abdominal Hypertension
Phlebitis
Postphlebitic Syndrome
Rheumatoid Vasculitis
Spinal Cord Ischemia
Spinal Cord Vascular Diseases
Thromboembolism
Thrombophlebitis
Thromboangiitis Obliterans
Postthrombotic Syndrome
Vasculitis
Vasculitis, Central Nervous System
Vasculitis, Leukocytoclastic, Cutaneous
Lupus Vasculitis, Central Nervous System
Systemic Vasculitis
Superior Vena Cava Syndrome
Varicose Ulcer
Varicose Veins
Vascular Cancers
Angiomatosis
Angioplasty
Angioplasty, Balloon
Angioplasty, Balloon, Coronary
Angioplasty, Balloon, Laser-Assisted
Angioplasty, Laser
Angioscopy
Portacaval Shunt, Surgical
Portasystemic Shunt, Surgical
Portasystemic Shunt, Transjugular Intrahepatic
Splenorenal Shunt, Surgical
Blood Vessel Prosthesis Implantation
Catheterization, Peripheral
Atherectomy
Arteritis
Endarteritis
Polyarteritis Nodosa
Takayasu Arteritis
Anterior Compartment Syndrome
Anterior Spinal Artery Syndrome
Anti-Neutrophil Cytoplasmic Antibody-Associated Vasculitis
Behcet Syndrome
Budd-Chiari Syndrome
Churg-Strauss Syndrome
Cogan Syndrome
Compartment Syndromes
CREST Syndrome
Ehlers-Danlos Syndrome
Giant Cell Arteritis
Hand-Arm Vibration Syndrome
Klippel-Trenaunay-Weber Syndrome
Sturge-Weber Syndrome
Susac Syndrome
Lemierre Syndrome
May-Thurner Syndrome
Loeys-Dietz Syndrome
Leriche Syndrome
Fibromuscular Dysplasia
Hemostatic Disorders
Erythromelalgia
Hepatic Veno-Occlusive Disease
Moyamoya Disease
Microscopic Polyangiitis
Pseudoxanthoma Elasticum
Purpura, Hyperglobulinemic
Livedo Reticularis
Purpura, Schoenlein-Henoch
Vasoplegia
von Hippel-Lindau Disease
Wegener Granulomatosis
Ultrasonography
Ultrasonography, Doppler
Ultrasonography, Doppler, Color
Ultrasonography, Doppler, Duplex
Ultrasonography, Doppler, Pulsed
Ultrasonography, Doppler, Transcranial
Echocardiography
Echocardiography, Doppler
Echocardiography, Doppler, Color
Echocardiography, Doppler, Pulsed
Echocardiography, Four-Dimensional
Echocardiography, Stress
Echocardiography, Three-Dimensional
Echoencephalography
Elasticity Imaging Techniques
Cardiovascular Diseases
Endosonography
Foot Ulcer
Blood Circulation
Gangrene
Dyslipidemias
Leg Ulcer
Smoking
Locations Where I Practice
East Hospital
East Hospital
181 Taylor Avenue Columbus, OH 43203
Please note: Not all physicians schedule patients at each listed location. Please call the "Schedule an appointment" number shown above for scheduling assistance.
Education and Training
Residency
General Surgery
Ohio State University Wexner Medical Center
7/1/2001 - 6/30/2006
Fellowship
Vascular Surgery
University of Pittsburgh Medical Center Presbyterian
7/1/2006 - 6/30/2008
My Videos
More About My Work
My Background
Board Certifications
American Board of Surgery
2/26/2007
American Board of Surgery (Subspecialty: Vascular Surgery)
5/19/2009
My Department
My Division
Vascular Diseases and Surgery
Reviews
58 Patient Satisfaction Reviews
The overall patient satisfaction rating is an average of all patient responses to the six doctor communication related questions shown below from the Clinician and Group Consumer Assessment of Healthcare Providers and Systems survey. For additional information about the patient satisfaction survey, please visit our Patient Satisfaction Survey page.
The comments are submitted by patients and reflect their view and opinions. The comments are not endorsed by and do not necessarily reflect the views of Ohio State Wexner Medical Center.
Overall


4.9 out of 5
Explains Things Clearly 4.9

Listens Carefully 4.9

Gives Understandable Instructions 4.9

Knows My Medical History 4.9

Shows Respect 4.9

Time Spent Together 4.7
0 Patient Comments
Consulting and Related Relationships
At The Ohio State University Wexner Medical Center, we support a faculty member's research and consulting in collaboration with medical device, research and/or drug companies because a faculty member's expertise can guide important advancements in the practice of medicine and improve patient care. In order to provide effective management of these relationships, the University requires annual disclosures from all faculty members with external interests related to their University responsibilities.
As of 12/20/2018, Dr. Go has reported no relationships with companies or entities.