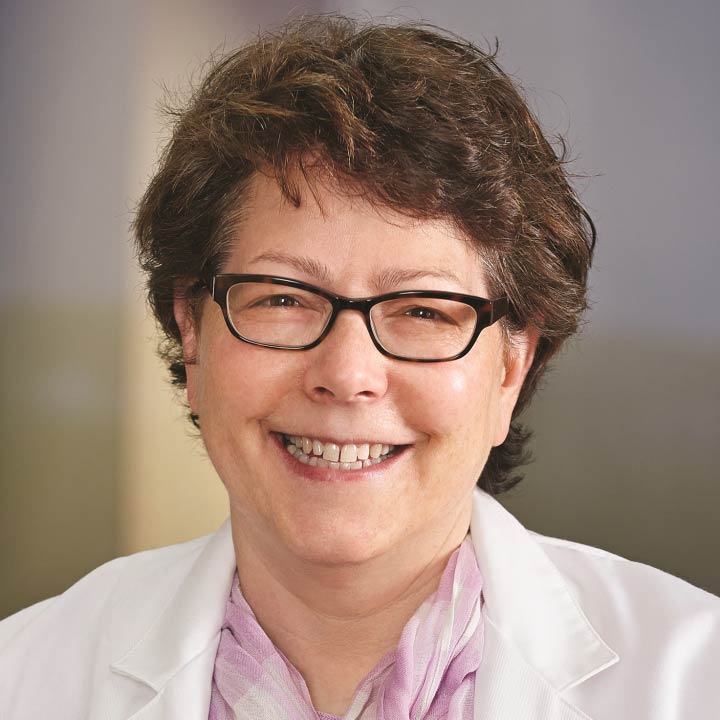 Miriam Freimer, MD
Appointments: (614) 293-4969
About Me
I believe that it's important to remember that patients are individuals. We can be most successful if the patient and his or her physician work as a team, along with other staff and family members. We work together to understand the medical issues facing the patient and what options are available to help treat or control symptoms.
I'm a neuromuscular disease specialist. I became interested in these disorders during my training because I have a background in immunology. Many nerve and muscle diseases are caused by immune system dysfunction. In the past 25 years, we've made great strides in treating many immune-mediated muscle and nerve diseases.
The Ohio State University Wexner Medical Center has evolved into one of the great tertiary (specialty) care centers in the United States. It's exciting to be a part of this transformation and to know that it will continue to grow long after I retire from practicing medicine.
Highlights
Co-director, the Myasthenia Gravis Clinic
Board Certified in Neurology, Neuromuscular Medicine and Clinical Neurophysiology
Best Doctor in America 2017
Specialties and conditions I treat
Neurology
Electromyography
Muscle Spasticity
Carpal Tunnel Syndrome
Neural Conduction
Hereditary Sensory and Autonomic Neuropathies
Myasthenic Syndromes, Congenital
Hemifacial Spasm
Myositis
Cubital Tunnel Syndrome
Lambert-Eaton Myasthenic Syndrome
Guillain-Barre Syndrome
Polyradiculoneuropathy
Polyradiculoneuropathy, Chronic Inflammatory Demyelinating
Stiff-Person Syndrome
MELAS Syndrome
Miller Fisher Syndrome
Poliomyelitis
Postpoliomyelitis Syndrome
Amyotrophic Lateral Sclerosis
Bulbo-Spinal Atrophy, X-Linked
Spinal Muscular Atrophies of Childhood
Kearns-Sayre Syndrome
Ophthalmoplegia, Chronic Progressive External
Giant Axonal Neuropathy
Dysautonomia, Familial
Amyloid Neuropathies
Amyloid Neuropathies, Familial
Myotonia Congenita
Myotonic Dystrophy
Motor Neuron Disease
Bulbar Palsy, Progressive
Neuromuscular Manifestations
Fasciculation
Muscle Cramp
Muscle Hypertonia
Muscle Rigidity
Muscle Hypotonia
Muscle Weakness
Muscular Atrophy
Sarcopenia
Myokymia
Myotonia
Spasm
Isaacs Syndrome
Distal Myopathies
Muscular Dystrophies
Muscular Dystrophies, Limb-Girdle
Muscular Dystrophy, Duchenne
Muscular Dystrophy, Facioscapulohumeral
Muscular Dystrophy, Oculopharyngeal
Sarcoglycanopathies
Muscular Dystrophy, Emery-Dreifuss
Myopathies, Nemaline
Myopathy, Central Core
Myositis, Inclusion Body
Orbital Myositis
Polymyositis
Pyomyositis
Myotonic Disorders
Paralyses, Familial Periodic
Paralysis, Hyperkalemic Periodic
Hypokalemic Periodic Paralysis
Muscular Disorders, Atrophic
Neuromuscular Junction Diseases
Botulism
Myasthenia Gravis, Autoimmune, Experimental
Myasthenia Gravis, Neonatal
Diabetic Neuropathies
Femoral Neuropathy
Mononeuropathies
Median Neuropathy
Peroneal Neuropathies
Radial Neuropathy
Sciatic Neuropathy
Piriformis Muscle Syndrome
Sciatica
Tarsal Tunnel Syndrome
Tibial Neuropathy
Ulnar Neuropathies
Ulnar Nerve Compression Syndromes
Brachial Plexus Neuritis
Paraneoplastic Polyneuropathy
POEMS Syndrome
Polyradiculopathy
Tangier Disease
Peripheral Nerve Injuries
Muscular Atrophy, Spinal
Mitochondrial Myopathies
Myopathies, Structural, Congenital
Brachial Plexus Neuropathies
Hand-Arm Vibration Syndrome
Eosinophilia-Myalgia Syndrome
Sandhoff Disease
Neurogenic Inflammation
Tetany
Trismus
Mitochondrial Encephalomyopathies
MERRF Syndrome
Peripheral Nervous System Diseases
Myasthenia Gravis
Dermatomyositis
Neuromuscular Diseases
Locations where I practice
Martha Morehouse Medical Plaza
Martha Morehouse Medical Plaza
2050 Kenny Road Columbus, OH 43221
CarePoint East
CarePoint East
543 Taylor Avenue Columbus, OH 43203
Please note: Not all physicians schedule patients at each listed location. Please call the "Schedule an appointment" number shown above for scheduling assistance.
Education and training
Medical Degree
M.D.
Ohio State University College of Medicine
6/30/1985
Residency
Neurology
Johns Hopkins Hospital
7/1/1986 - 6/30/1989
My videos
More about my work
My background
Board Certifications
American Board of Psychiatry & Neurology (Subspecialty: Clinical Neurophysiology)
4/30/1994
American Board of Psychiatry & Neurology (Subspecialty: Clinical Neurophysiology)
8/26/2004
American Board of Psychiatry & Neurology (Subspecialty: Neurology)
10/30/1991
American Board of Psychiatry & Neurology (Subspecialty: Neurology)
10/31/1991
American Board of Psychiatry & Neurology (Subspecialty: Neuromuscular Medicine)
9/8/2008
My Department
Reviews
54 Patient Satisfaction Reviews
The patient satisfaction rating is an average of all responses to the six doctor communication related questions shown below from the Clinician and Group Consumer Assessment of Healthcare Providers and Systems survey. For additional information about the patient satisfaction survey, please visit our
Patient Satisfaction Survey page
.
Overall


4.7 out of 5
Explains Things Clearly 4.7

Listens Carefully 4.8

Gives Understandable Instructions 4.7

Knows My Medical History 4.6

Shows Respect 4.8

Time Spent Together 4.8
Consulting and Related Relationships
At The Ohio State University Wexner Medical Center, we support a faculty member's research and consulting in collaboration with medical device, research and/or drug companies because a faculty member's expertise can guide important advancements in the practice of medicine and improve patient care. In order to provide effective management of these relationships, the University requires annual disclosures from all faculty members with external interests related to their University responsibilities.
As of 03/28/2017, Dr. Freimer has reported no financial relationships with medical device, research and/or drug companies.