Ohio State invests in ending central Ohio food insecurity
Image above: Katie McCurdy, a chef and wellness educator at the Ohio State Wexner Medical Center, helps lead culinary education initiatives through the James Mobile Education kitchen.
Adequate nutrition begins with healthful foods. But for more than 37 million Americans, limited access to food — healthful, nutrient-rich food or not — is the first of many barriers to good health.
Food insecurity, or the lack of regular access to the food one needs to sustain themselves, is a significant issue in the United States.
According to the U.S. Department of Agriculture's Economic Research Service, more than 11% of U.S. households were food-insecure at some time during 2018, the most recent measurement year.
This means that the families in those households weren't certain of having or of their ability to acquire enough food to meet their needs — whether because they didn't have enough money or couldn't physically reach a place that provided food, or because they lacked other resources.
But the science is clear that access to food has shown evidence of improved health outcomes, prevention of disease progression and lower overall costs of medical care.
"We know that food is health, and access to healthful food definitely improves health outcomes," says Aaron Clark, DO, a Family Medicine physician at the Ohio State Wexner Medical Center.
The Ohio State University health science colleges and the Ohio State Wexner Medical Center have long been committed to addressing this serious epidemic. Newer initiatives aim to solve resource gaps at home in Franklin County, where 69 million meals are missed each year, and throughout the country, where Ohio State's innovative models could be replicated.
Prescriptions for fresh food
In September 2019, the Ohio State Wexner Medical Center Department of Family and Community Medicine partnered with the nation's seventh largest food bank, the Mid-Ohio Food Collective, to better connect Ohio State patients in need with extra support through fresh produce and other nutrient-rich foods.
What resulted was the Mid-Ohio Farmacy, a partnership that allows Ohio State staff and providers to screen and refer patients to receive a fresh-food "prescription" card, with a unique Rx ID, that permits them weekly access to fresh produce at any of the Mid-Ohio Food Collective's 12 participating pantries in central Ohio.
Ohio State Wexner Medical Center health care providers in six areas are able to prescribe the Mid-Ohio Farmacy card:
To identify recipients, providers screen patients with two statements:
"Within the past 12 months, we worried whether our food would run out before we got money to buy more."
"Within the past 12 months, the food we bought just didn't last and we didn't have money to get more."
A response of "sometimes true" or "often true" to either statement is considered evidence for risk of food insecurity.
High-risk patients targeted for screening have been defined as patients having difficulty managing chronic health conditions, including diabetes (hemoglobin A1C >9%), gestational diabetes, hypertension (>140/90) and obesity (BMI >30).
As August 2021, more than 940 patients have benefited from the program, leading to more than 2,500 food pantry visits. Dr. Clark, a champion of the Farmacy program, says this rate of enrollee participation is much higher than what is seen nationally in similar programs.
"Our patients have shown tremendous support for the program — they feel taken care of," Dr. Clark says. "We providers feel good about it, too, being able to address a patient's nonmedical, health-related social need. When their own physician asks them about food insecurity, it's meaningful to the patient and it helps them engage in their care."
One patient described the Farmacy as a "lifesaver."
"Especially if you've got kids to feed," they said.
Dr. Clark notes that not only does the increased food pantry access improve health outcomes through nutrition, but patients also don't have to spend as much of their limited budgets on food.
"I've had a patient tell me that she's now able to afford her insulin because she doesn't have to spend as much on food."
Another patient explained that, when they were younger, they couldn't comprehend someone being unable to afford their medicine because they needed to eat, or skipping meals to afford medication.
"But, as I've actually seen it and been part of it, I understand," they said. "It's a real big concern of mine."
Diverting food surplus and educating
Other longstanding partnerships between Ohio State and Mid-Ohio Food Collective support the food bank's reserves, as well. For example, the Ohio State Wexner Medical Center donates about 40,000 pounds of food each year to the food bank's Second Servings program. Packaged meals that are prepared in hospital kitchens and don't ever make it to patients or cafeteria patrons head to Second Servings' soup kitchens and emergency shelters. Uncooked produce, bread and other foods also are donated to the food bank.
Medical center chefs and clinicians can show pantry recipients how to cook that food through the James Mobile Education Kitchen, a food truck-style vehicle with hands-on nutrition education.
"We're able to show people how to turn that donated food into something healthy that they actually want to eat," says Jim Warner, program director of Food Service Administration in Nutrition Services at the Wexner Medical Center.
The team travels to underserved areas to distribute food samples and hold cooking and nutrition demonstrations. Among those destinations, for example, is the Reeb Avenue Community Center on Columbus' South Side, where the Mobile Education Kitchen team has provided snacks and nutrition-based games along with community members' Mid-Ohio Food Collective lunches.
Custom-designed neighborhood food access
On the Near East Side, where the Ohio State Wexner Medical Center serves the community through Partners Achieving Community Transformation (PACT), a unique Healthy Community Center is set to open in fall 2022, partially designed by neighborhood residents themselves.
Taking over the previous site of the Columbus Metropolitan Library's Martin Luther King Jr. branch, this multipurpose facility provides no clinical services, but it fills a major gap in the community, says Autumn Glover, president of PACT.
"We knew that the Near East Side is an area rich in food pantries," she says. "So we need to do more than get food to people."
"Helping people learn how to use the food to prepare healthy meals for their families to promote health is just as important," notes Joshua Joseph, MD, MPH, who will serve as medical director for the center.
An Ohio State endocrinologist whose clinical research focuses on risk factors for obesity and type 2 diabetes in diverse populations, Dr. Joseph explains that the community facility further demonstrates Ohio State's commitment to its neighbors' well-being.
"We know that, to make a worthwhile investment in a community, we have to engage with the community as partners and respond to the needs of the community. That's what will serve the health of a community long-term."
PACT and medical center leaders had ideas for the new facility, but, Glover says, the community asked PACT to consider a market, as well.
The Ohio State University Healthy Community Center will feature:
a teaching kitchen with demonstrations for families and individuals of all ages
a meeting center and café space where a local entrepreneur can operate
soundproofed multipurpose classrooms and meeting rooms that can be sectioned off as needed
a subsidized fresh food market, featuring food provided by Mid-Ohio Collective and potentially staffed by Ohio State students and volunteers
"It's a beautiful opportunity of a community building," Glover says. "Everybody needs food — it's a great equalizer and connector of people to one another, and to their health and well-being. This project is so contextualized to the people in the neighborhood we're trying to serve — we've been thinking about this project as nutritional access, but also solving social isolation.
"That community engagement was really pivotal in making sure we weren't just building something as Ohio State and assuming it would be useful."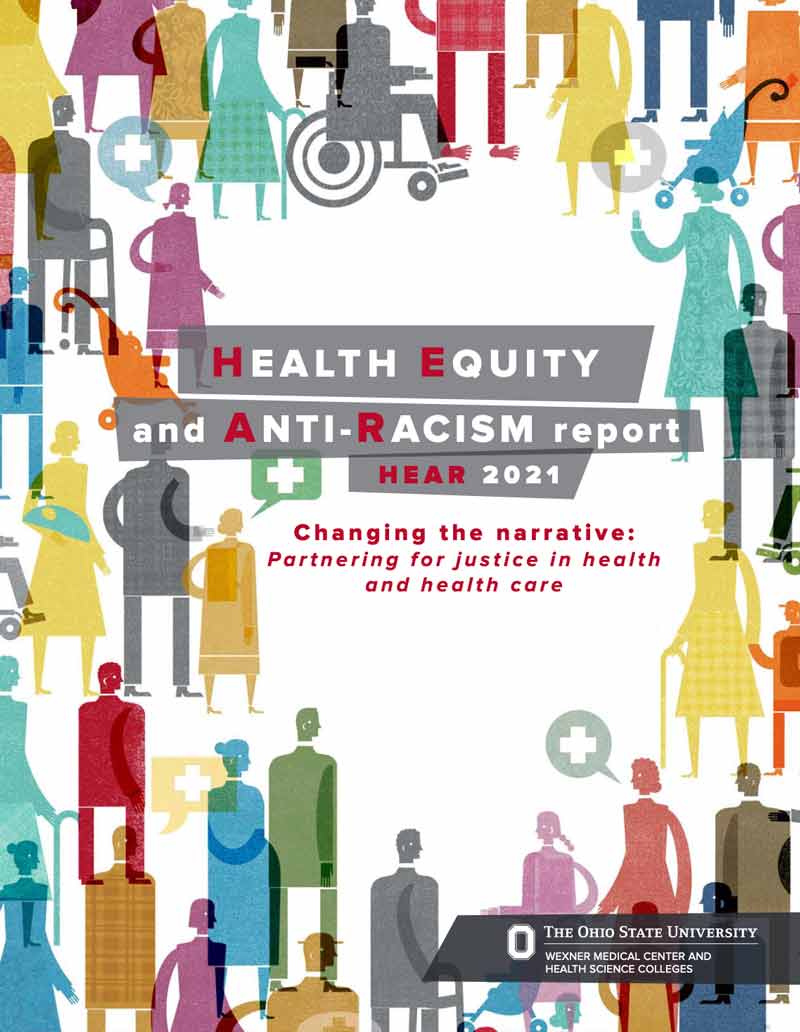 2020-2021 Health Equity and Anti-Racism (HEAR) report
Changing the narrative: Partnering for justice in health and health care
Download the full report to read all the stories
Visit Ohio State Health & Discovery for more stories on health, wellness, innovation, research and science news from the experts at Ohio State.