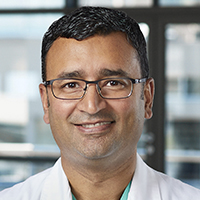 Nahush Mokadam, MD
Physician

What's this?

A physician, or doctor, is extensively trained to diagnose and treat complex medical problems. Often, physicians focus their practice on certain disease categories, treatment methods or patient types. Physicians can diagnose and treat illness, prescribe medication, offer medical consultation and advice, perform surgery and more.
Appointments: (614) 293-5502
About Me
As an adult cardiac surgeon, I treat a wide range of conditions including coronary artery disease, valve disease, aortic disease, cardiomyopathy and heart aneurysms. I perform all types of cardiac operations, including valve repair or replacement, bypass surgery, heart transplant, ventricular assist device implantation and aortic reconstructions. When possible, I employ minimally invasive approaches to facilitate my patients' recovery, and also use transcatheter approaches when appropriate. I believe in providing patients with individualized care, tailored specifically to their unique needs and goals, and encourage my patients to actively involve themselves in their care to improve their health and well-being.
My favorite part about working at The Ohio State University Wexner Medical Center is the distinguishing character of our faculty and staff. I am proud to work with such a cooperative and resourceful group of individuals who are committed to our patients and families.
In my free time I enjoy photography and spending time with my family.
Procedures and Conditions I Treat
Cardiovascular Diseases
Heart-Assist Devices
Aortic Aneurysm, Abdominal
Heart Defects, Congenital
Transplantation
Lung Transplantation
Acute Coronary Syndrome
Cardiac Valve Annuloplasty
Coronary Disease
Coronary Artery Bypass
Extracorporeal Membrane Oxygenation
Cardiomyopathy, Hypertrophic, Familial
Ventricular Fibrillation
Aneurysm, Dissecting
Pericardial Effusion
Heart Valve Prolapse
Pulmonary Valve Insufficiency
Tricuspid Valve Prolapse
Cardiomyopathy, Dilated
Inferior Wall Myocardial Infarction
Coronary Artery Bypass, Off-Pump
Pericardiectomy
Ventricular Dysfunction, Right
Endocarditis, Subacute Bacterial
Hypertrophy, Left Ventricular
Device Removal
Minimally Invasive Surgical Procedures
Aortic Aneurysm
Pericardial Window Techniques
Heart Arrest
Pulmonary Embolism
Pulmonary Infarction
Heart Failure, Systolic
Aortic Valve Stenosis
Mitral Valve Stenosis
Tricuspid Valve Insufficiency
Heart Aneurysm
Foramen Ovale, Patent
Heart Valve Prosthesis Implantation
Heart Bypass, Right
Ventricular Dysfunction, Left
Aortic Coarctation
Coronary Vessel Anomalies
Pericarditis, Constrictive
Heart Bypass, Left
Heart Failure
Coronary Artery Disease
Heart Valve Diseases
Heart Transplantation
Mitral Valve Prolapse
Thoracic Surgery
Heart Diseases
Aneurysm
Diabetic Cardiomyopathies
Cardiomyopathies
Heart-Lung Transplantation
Cardiac Surgical Procedures
Respiratory Distress Syndrome, Adult
Thromboembolism
Pericardiocentesis
Shock, Cardiogenic
Ventricular Flutter
Heart Failure, Diastolic
Pericarditis
Dissection
Endocarditis
Pulmonary Heart Disease
Aortic Valve Insufficiency
Pulmonary Valve Stenosis
Mitral Valve Insufficiency
Tricuspid Valve Stenosis
Bicuspid
Mitral Valve
Heart Septal Defects
Heart Septal Defects, Atrial
Anterior Wall Myocardial Infarction
Mitral Valve Annuloplasty
Ventricular Dysfunction
Cardiomyopathy, Restrictive
Coronary Aneurysm
Endocarditis, Bacterial
Endocarditis, Non-Infective
Heart Rupture
Heart Rupture, Post-Infarction
Hypertrophy, Right Ventricular
Angina Pectoris
Locations Where I Practice
Richard M. Ross Heart Hospital
Richard M. Ross Heart Hospital
452 West 10th Avenue Columbus, OH 43210
Please note: Not all physicians schedule patients at each listed location. Please call the "Schedule an appointment" number shown above for scheduling assistance.
Education and Training
Medical Degree
MD
University of Pennsylvania School of Medicine
5/30/1998
Residency
Surgery
Barnes - Jewish Hospital
6/1/1998 - 6/30/2005
More About My Work
My Background
Board Certification
American Board of Thoracic Surgery
6/6/2008
My Department
My Division
Cardiac Surgery
News About Me
Consulting and Related Relationships
At The Ohio State University Wexner Medical Center, we support a faculty member's research and consulting in collaboration with medical device, research and/or drug companies because a faculty member's expertise can guide important advancements in the practice of medicine and improve patient care. In order to provide effective management of these relationships, the University requires annual disclosures from all faculty members with external interests related to their University responsibilities.
As of 12/20/2018, Dr. Mokadam has reported relationships with the companies or entities listed below. If you have questions about the relationships listed below, please ask the faculty member. If you have questions about how these relationships are monitored by The Ohio State University Wexner Medical Center, please contact our Compliance Office.
Abbott Laboratories
Medtronic
Syncardia