The "Resiliency Now" exhibit, being shown during Nurses Week, depicted the healing role that art has played in the lives of our nursing and patient care staff throughout the COVID-19 pandemic. Documenting both cathartic expressions and acts of self-care by the caretakers, this exhibit curates and honors the collective resiliency of those who have served selflessly on the front lines. Shown below are the photos of the artwork submitted by staff.
Artist: Taylor Kay Moore, BSN, RN, 7 BSH, Trauma Surgery
Medium: Acrylic paint on canvas
"This piece represents resiliency because I painted it with my night shift colleagues to take our mind off work and spend some quality time together. As a floor consisting mainly of new grad nurses, our first year together has been difficult. We are fortunate to have such a fantastic staff, we help and support each other and as a bonus we genuinely like each other."
Artist: Lindsey Pfefferle RN, BSN, CNOR, Same Day Surgery
Medium: Photography
"I love to take pictures for the Buckeye Paws Program here at the hospital in my free time. I believe these photographs represent resiliency through hope and the healing power of hugs. As I have made my way around the hospital with the Buckeye Paws therapy dogs throughout this pandemic, I have witnessed countless staff members being recharged within seconds of a pup embrace. The dogs are able to provide a sense of normalcy and hope while being surrounded by the opposite. The energy in the room immediately changes when the pups walk in tails wagging, letting staff reset and heal. These healing hug photographs show so much emotion during such a trying time."
Artist: Chelsea McVay BSN, RN, CCRN, Assistant Nurse Manager, Neurosciences Critical Care Unit
Medium: Pencil/drawing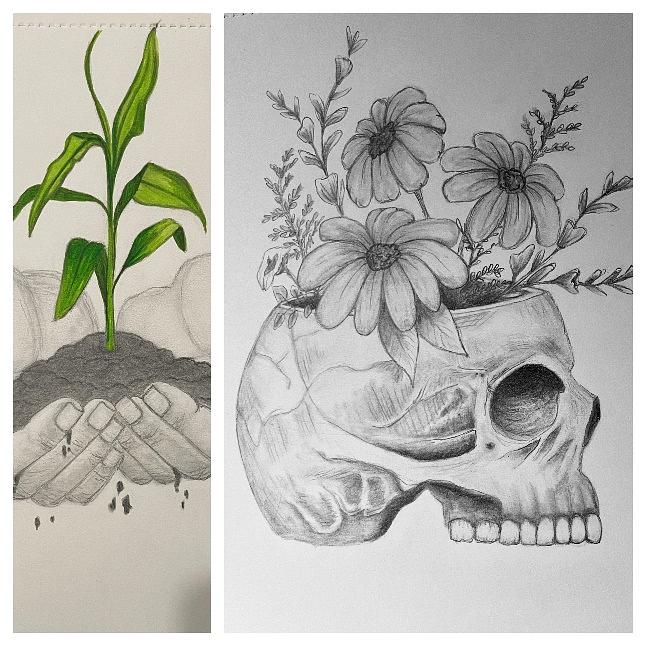 Artist: Thomas Lawson, MS, APRN-CNP, ACNP-BC, Nurse Practitioner, Neurocritical Care Unit
Medium: Mixed natural wood
"Resiliency: There is much value we can provide through knowledge work, but this involves much time sitting and staring at computer screens. We are designed to create physical things. Periodically, I get the urge to make something tangible. Working with my hands can provide a mental break and result in something beautiful, and in this case, something from natural materials that hangs on my office wall."
Artist: Candace Engel, RN, 10 East Doan
Title: New life can spring from something old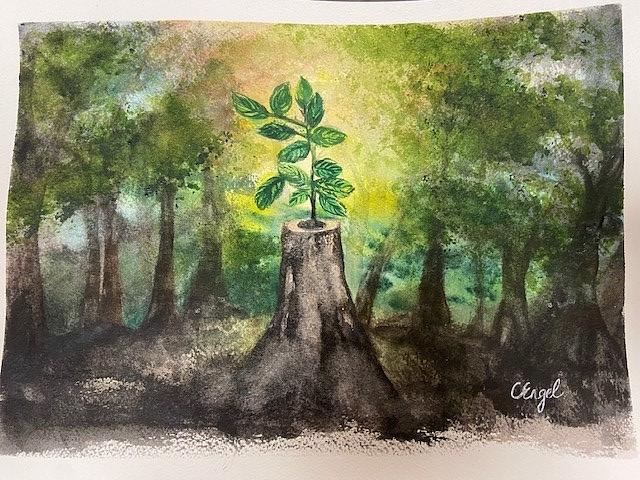 Name: Alyssa von Reuter, 7 Ross
Medium: Gouache paint
Title: Ambient
"Art has really taken a healing role for me during the COVID-19 pandemic as a cathartic expressions and act of self-care. The collective resiliency of my fellow frontline workers is commendable and a source of solidarity, support, and camaraderie and what has helped me through the stress, fear, exhaustion, and uncertainly we have all most certainly felt during the pandemic. Art has been a therapy to help release stress and anxiety and a healing act to strengthen myself and to create a place of sanctuary and conversation with my coworkers."
"This painting represents resiliency in an encompassing atmosphere of peace and connection and strength from knowing that you are not alone and that your resolve and perseverance comes from knowing that you are being lifted by the roots, your loved ones and work family, and through the work we do to help others. Creating a melody and harmony."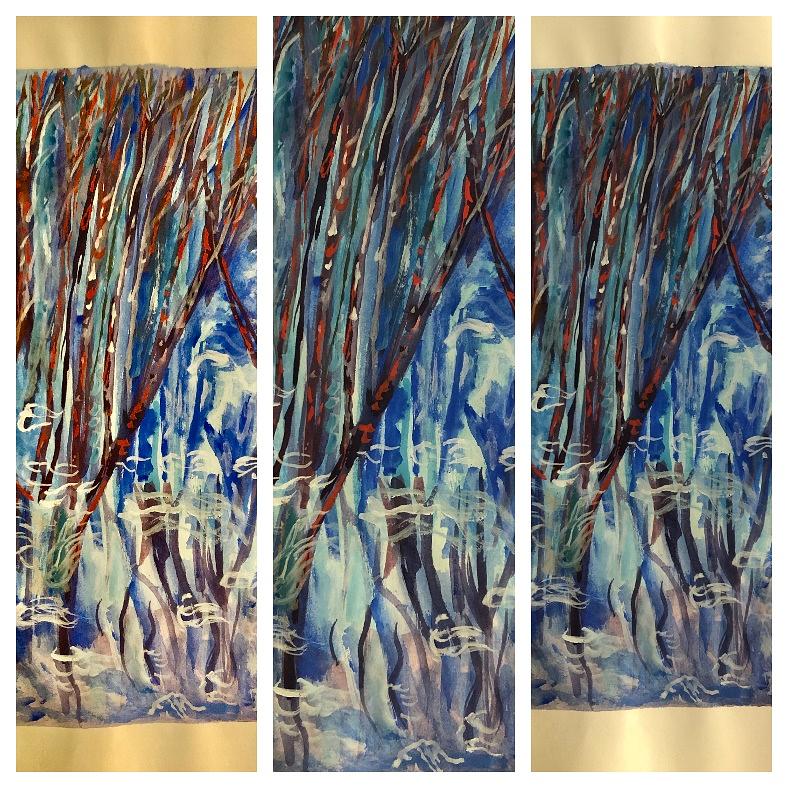 Name: Alyssa von Reuter, 7 Ross
Medium: Gouache paint
Title: Dark Waters
"There were many moments through the pandemic where I felt alone, especially in the beginning; even though I had my coworkers with me, I felt disconnected from the world. There were times where I felt scared and lost in the disconnection. Resiliency for me was realizing that with my coworkers, I knew I wasn't alone and that we felt the same, going through the very same trials. The connection to them is what pulled me away from the dark and made me feel allied and less afraid. They were the source that pulled me from the deep. They were my strength."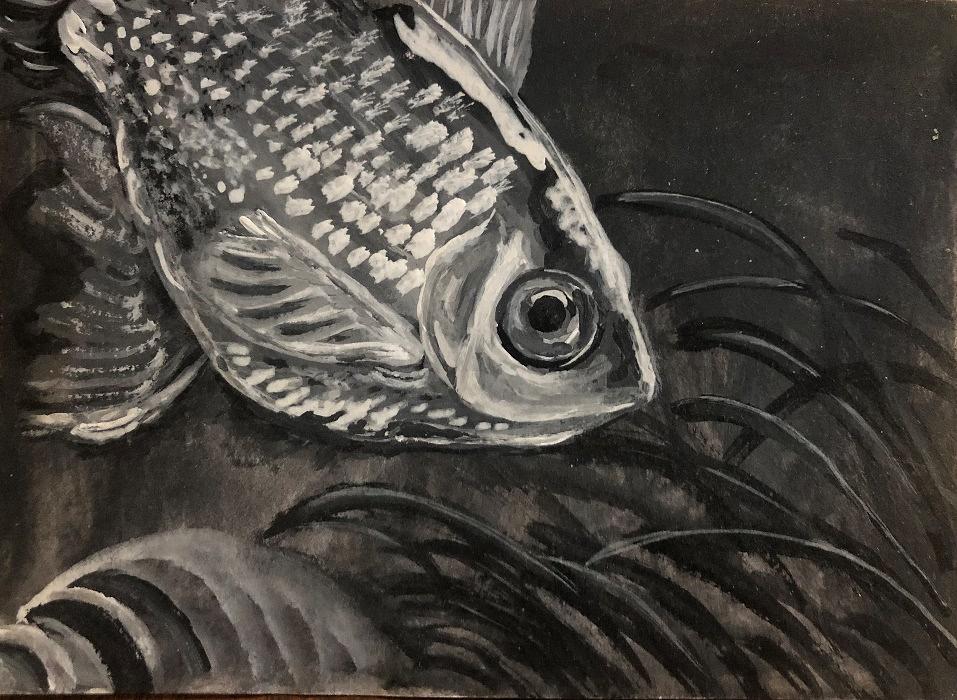 Name: Tony Ooten, RN, Acute Hemodialysis
Medium: Ocean tray with acrylic epoxy / Flowers using pain chain technique
Tony says that he uses his art to create resiliency through relaxation.
Name: Alia Ross, BSN, RN, 10WD Hemodialysis
Medium: Mixed Medium/Painting Piece
"Resiliency, a shield that protects us from the wind and storms that rage throughout the world of healthcare. Doctors, nurses, PCA's, environmental specialists, transportation services, respiratory therapists, nutritionists, pharmacists, speech and occupational therapists, radiology techs, and the many other varieties of specialists, we build this characteristic on the daily. Our hearts strain, our emotions pour out, and our bodies are tested. It isn't a mental toughness, it's the ability to bounce back from the difficulties that we face, to start fresh, and to grow. It is the ability to still see the beauty around us despite the horrors that plague the lives of our patients and their families. It is the ability to look into the face of hardship and persevere despite our human defaults and vulnerability. It is the acknowledgment of our emotions and our ability to weave them into a positive force and to take a moment prior to entering our tumultuous environments and breathe. Not only must we build this resiliency for our patients, coworkers, and families, we must build this resiliency for ourselves. We must create a balance between our careers and our personal lives in order to flourish.
My mixed medium shows that despite the hardships we are exposed to as healthcare professionals and hospital workers, we have the ability to grow, to take a deep breath, and continue moving forward on the path of creating something beautiful."
Name: Ruta Agresti
Medium: Photography